7 Tips for Hiking with Dogs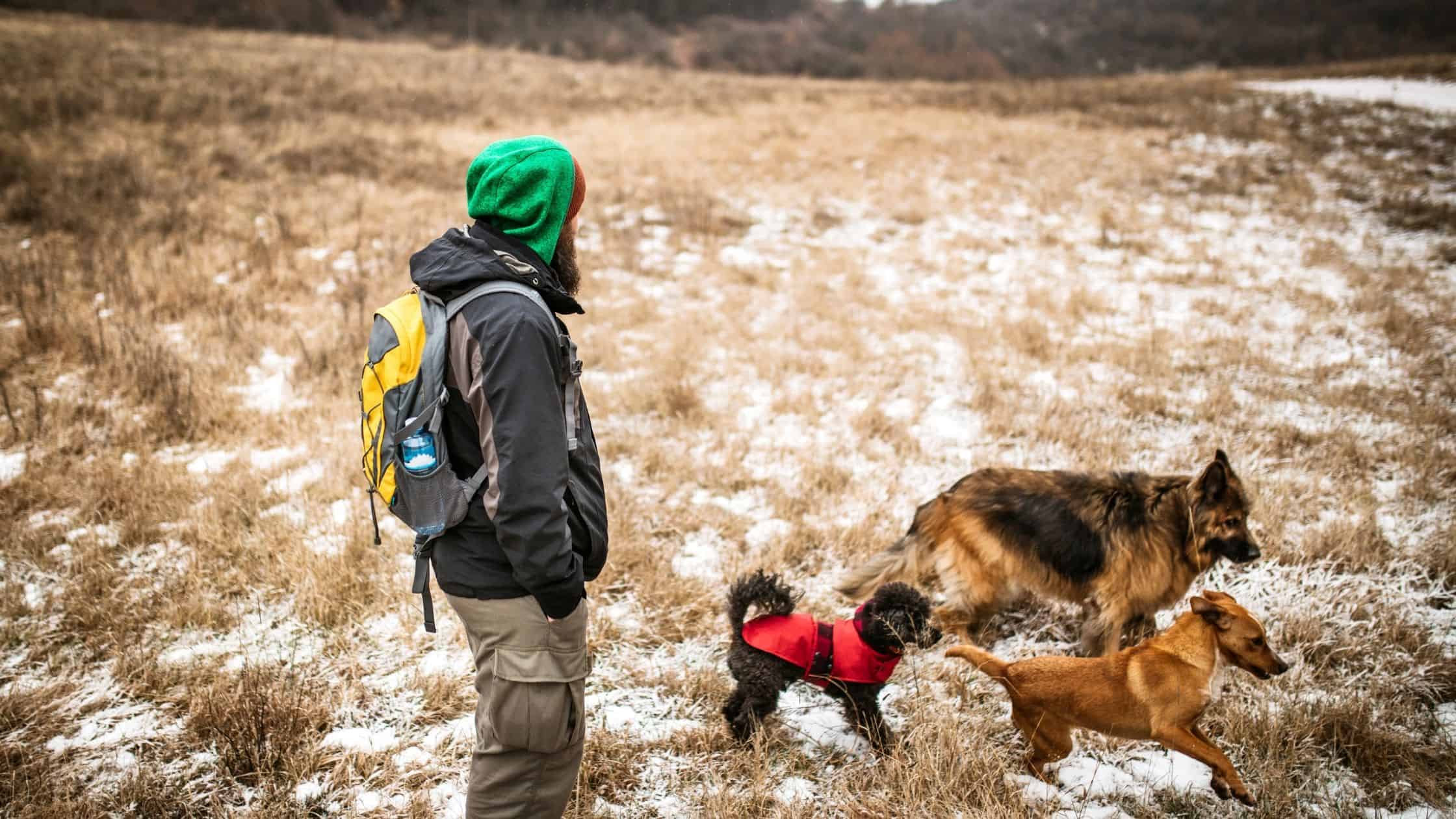 Outdoor hiking with your dog is not only great exercise for you both and can be tailored to your experience level, but it also provides the mental stimulation your pup needs to thrive. The new sights, sounds, and smells pique your pup's curiosity and can help them get in touch with their natural instincts.
Hikes are also a perfect bonding experience. You and your dog will tackle this new experience together and you have a chance to practice new behaviors. An open, safe trail can be a good place to practice recall and other commands that will make your pup an ideal canine citizen.
Of course, preparing before you hit the trail is always best. From knowing how to prevent ticks on dogs while hiking to leaving no trace, we have some things to keep in mind when heading outdoors with your pet.
Here are 7 Tips for Hiking with Dogs, brought to you from Odie Pet Insurance. 
Here are a few tips and things to consider that will make hiking with your dog that much better:
Choose a dog-friendly hiking trail
Prevent fleas & ticks with medication or a collar
Bring a sturdy leash and collar with up-to-date tags
Take fresh water and a collapsible bowl
Don't forget doggie waste bags
Provide dog booties for extreme temperatures or tough terrain
Keep a towel and first aid kit handy
Before getting started outdoors and beginning your hike, consider your dog's health and fitness and choose a trail that will suit both of you. While searching for trails, be sure that dogs are allowed, and in case of an emergency, check to see how close the nearest vet is.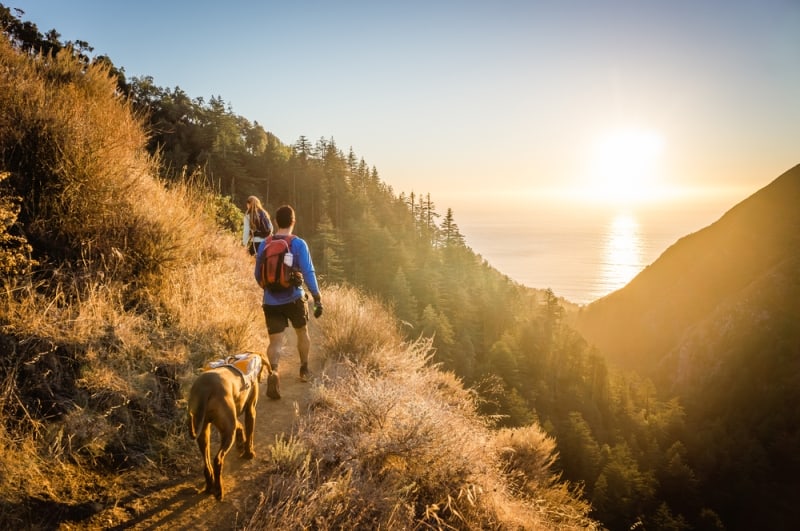 #1 Choose a dog-friendly hiking trail
To offset any disappointment, do a simple internet search and check if dogs are allowed at your hiking destination. While it may seem like dogs are welcome at most trails, many national parks in the United States do not allow dogs. If you're unsure whether your dog is welcome, try calling the park's ranger station ahead of time. 
You may find out that your dog is only allowed in some designated areas. You should also consider the terrain and difficulty of the hike. Many trails are rated by their distance and ruggedness, which will help you choose between a leisurely day hike or a more intense excursion.
#2 Prevent fleas & ticks with medication or a collar
Dogs love to sniff around, and if they are extra adventurous, they will probably want to explore off-trail in plants, bushes, or trees. The problem with off-trail exploring is ticks and fleas. 
It is important to keep your dog safe and out of these parasites' way to prevent diseases such as Lyme disease. The best way to reduce the risks and ensure your dog remains flea and tick-free is to apply medication such as Frontline that repels ticks or provide a flea/tick collar like Seresto. If your dog loves the water, most collars are not waterproof, so applying tick preventive medication at least 24 hours before your hike is your best bet.
We also recommend checking your dog for ticks after every hike and washing them with a flea and tick shampoo, especially if you live in an area where ticks are prevalent. Depending on where you live, there are different ticks to keep in mind. The American dog tick, brown dog tick, and deer tick are just a few.
If you do find a tick on your dog, it's important to quickly and safely remove it. The Humane Society provides a handy guide for proper tick removal that can help with the process. If you notice a tick bite on your dog's skin, make sure to bring it up with your vet and see if it should be treated with antibiotics.
#3 Bring a sturdy leash and collar with up-to-date tags
Second, you'll want to check that your dog has a sturdy leash and collar. Many hiking trails require a non-retractable leash that is no longer than six feet long. This is to ensure hikers maintain complete control of their pets at all times. Your dog's collar should also bear up-to-date tags, including your name, phone number, rabies tag, and state registration tag.
Proper trail etiquette is to abide by the leash laws. Especially in high-traffic areas, following the leash law will help keep your dog out of harm's way and provide additional safety to you and other hikers. 
Remember, as dog owners, it is our responsibility to keep our pets from aggressive encounters with other dogs or wild animals as well as keep them out of plants like poison oak/ivy. If your dog is hiking off-leash, it should be able to walk at a heel and obey simple commands to create a much less stressful environment while hiking.
Keeping your dog on a leash during your hike is one of the best ways to ensure everyone on the trail stays safe.
#4 Take fresh water and a collapsible bowl
It's important that you and your dog stay hydrated while conquering the trails so be sure to bring clean water for both of you. We've found the best way to give your dog water on a hike is using a collapsible dog bowl that ultimately does not take up a lot of space. If you aren't the one that wants to carry something like this then be sure to dedicate a water bottle for your dog to drink from on your journey.
Depending on where you live and the time of year, you want to avoid having your dog drink from ponds and lakes due to algae. Also, stagnant water and puddles can be home to harmful bacteria, so bringing fresh water for your pup is always best.
#5 Don't forget doggie waste bags
No one wants to step in dog poop while they're enjoying a beautiful hike, so do your part and dispose of your dog's waste to leave no trace. Proper etiquette is to bring your own doggie waste bags, double bag it, and carry it out. 
Why, you may ask? Because in high-traffic areas, piles of dog waste can get extra stinky, and those pathogens can end up in freshwater sources. Plus, it ensures other hikers enjoy their time outdoors just as much as you and your pups.
#6 Provide dog booties during extreme temperatures or tough terrain
In case you and your dog are the adventurous types who enjoy hiking during extra cold winter days or hot summer months, dog booties may be helpful in keeping your dog's paws safe. A water-resistant boot with traction and flexibility will provide a protective layer and nice durability. They're also useful if you plan on hiking through tough terrain or over abrasive surfaces.
#7 Keep a towel and first aid kit handy
Another item to keep on hand is a pet first aid kit with the basics: tweezers (ahem ticks), gauze, tape roll, bandages, Benadryl, antiseptic towelettes, and cotton swabs. We at Odie feel it's better to be over-prepared rather than underprepared for an accident or emergency.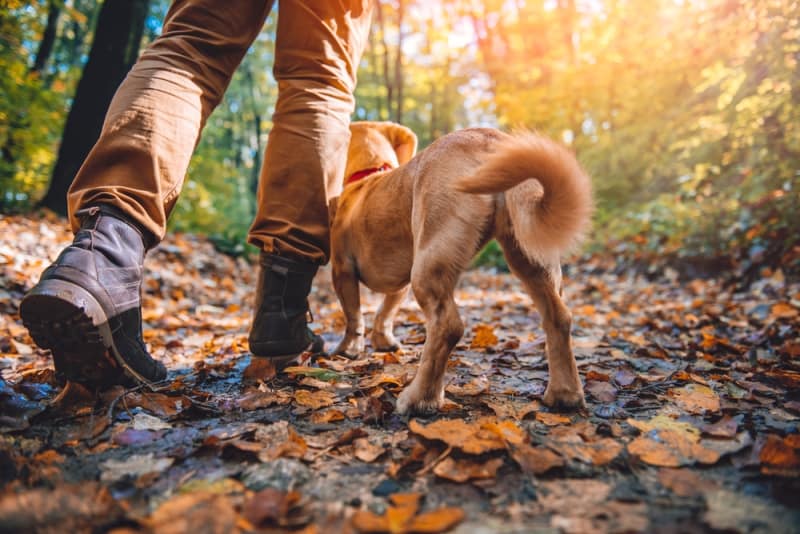 Final Thoughts
Aside from these quick tips on items you can bring with you on your hike, it is also important to adventure somewhere where there is shade for you and your dog to cool down and rest. Dogs get tired and can overheat just like we do, so be considerate of the conditions you are hiking in and your dog's fitness.
Using a little extra time to plan your hike and bring items for you and your dog will make for a much better adventure with your pet. It will make for some great exercise and, most importantly, will make a great adventure with your dog.
To keep your pet healthy at home and on the go, get a free quote for Odie Pet Insurance!
Is your dog panting so much? Read this article to know more.