4 Reasons Why Companies Are Going Dog-friendly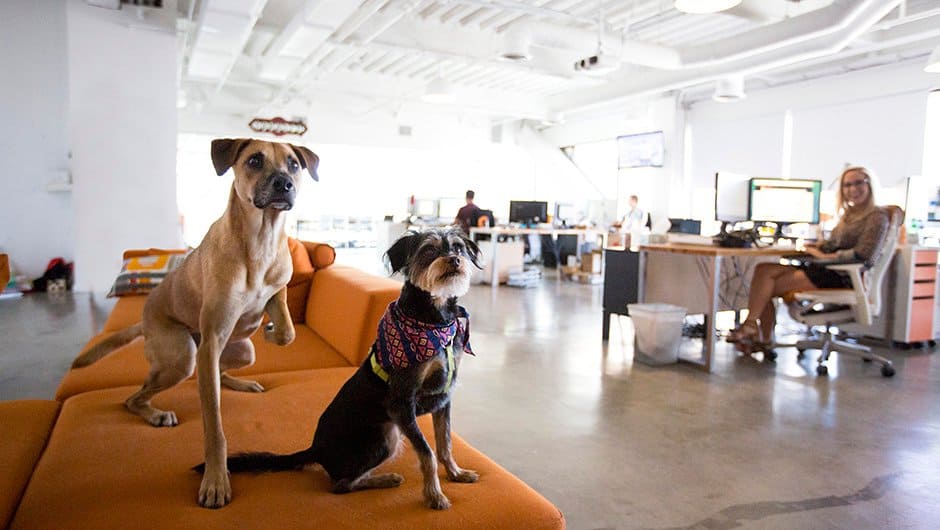 Having dogs in the workplace may seem like a dream come true, but for some offices, this is actually a reality. Although allowing dogs in the workplace is not always practical, due to allergies and other health concerns, many businesses are starting to realize the large number of benefits that come with a dog-friendly work environment. As times are changing from previous generations, the majority of the workplace now values job satisfaction. According to studies, dog-friendly companies have reduced stress levels, increased teamwork and morale, encouragement of regular breaks, increased productivity, increased employee communication, and decreased employee absences.
Here are 4 reasons why companies are going dog-friendly:
Dogs Help Reduce Employee Stress
It may seem impossible to avoid stress in any work environment, but studies have shown that dogs have the power to reduce stress levels and even help achieve a higher job satisfaction rate. It is proven that employees who have their dogs in the workplace have lower stress levels than those who did not have their dogs with them. For example, imagine you are leaving an intense work meeting and your pup is happily waiting for you at your desk with their tail wagging. Dogs help us release endorphins or otherwise known as the "happy hormones" when we are in stressful situations. Not only are dogs great companions at home, but they also help to promote a more comfortable work environment.
Promotes Productivity
When a dog is introduced into the work environment, they naturally make employees happier and less stressed overall. In turn, happier and less stressed employees lead to a more productive workplace. Some may think that adorable dogs in the workplace could be distracting, but the number of benefits definitely outweigh the costs. Taking short breaks to interact and play with the office dogs allows employees to gain a boost of energy to continue with their day's work.
Helps Improve Communication
Insufficient communication in the workplace can prevent productivity amongst employees. Switching to a dog-friendly work environment is great for companies where employees usually tend to complete individual work. Office dogs encourage employees to interact with one another and bring a sense of community. Dogs, and pets in general, allow employees to talk about shared interests and can even lead to deeper and meaningful conversations. Improving upon these office relationships results in a greater amount of trust and collaboration between co-workers.
Boosts Office Morale
Office dogs are proven to help boost morale in the workplace. When a dog greets you excitedly, it instantly boosts your overall mood. This is very helpful in work environments. When employees are stressed about a big presentation or deadline coming up, they can get an instant mood booster by interacting with the office dog. Petting and relaxing with the office dog will make employees more focused and ready to get the job done!
Planning to get insurance for your fur babies? This article provides a guide to understanding pet insurance.