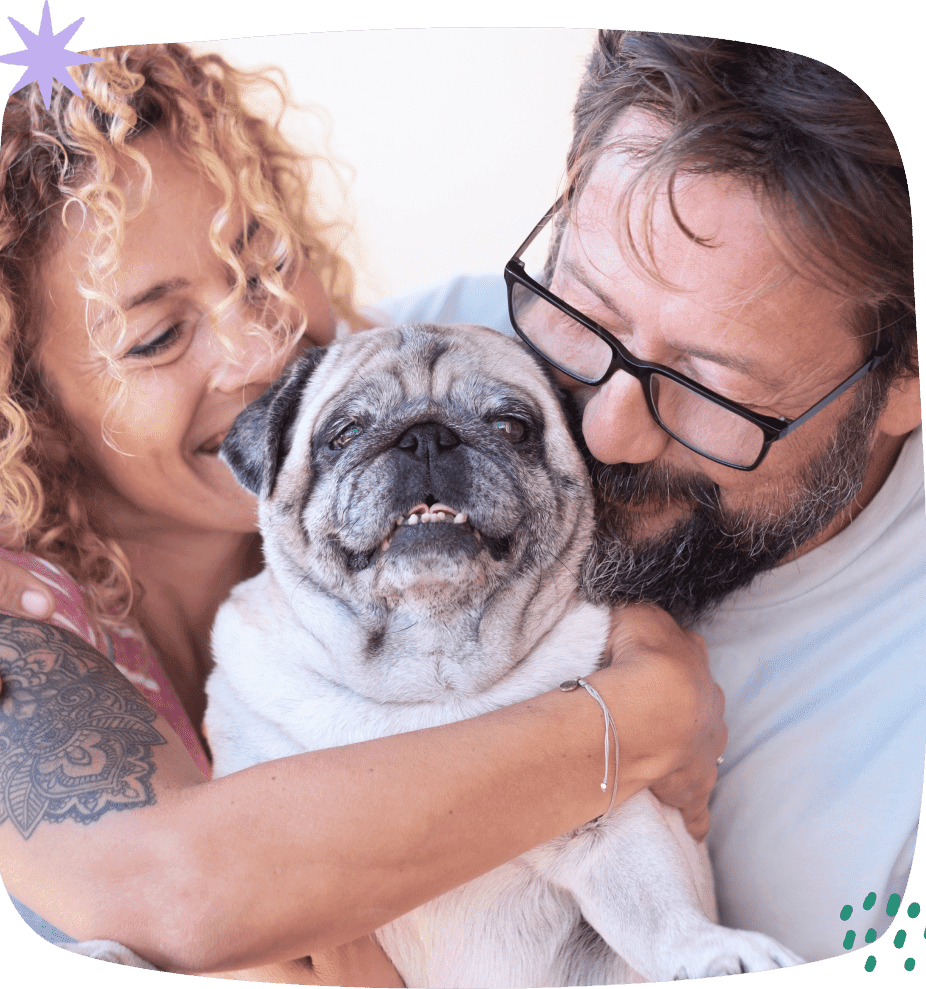 Pet Insurance Comparison Guide
Choosing the right pet insurance for your fur-iend can be difficult and confusing. Most companies that offer pet insurance generally work the same, but there are often major differences between coverage details and overall benefits, which will ultimately affect the cost of your monthly premium and claim reimbursements.
Odie's pet insurance policies and wellness plans were created with the sole purpose of offering greater coverage flexibility as well as stable and predictable premiums. Our mission has always been to significantly increase the number of insured pets in the United States by lowering the entry point for pet parents and removing the financial burden.
At Odie, we believe that all dogs and cats should have access to the essential pet care services they need. We've made pet insurance more affordable by streamlining costs and passing those savings on to our members—without compromising on coverage. So, you'll receive the quality coverage you want and expect at accessible prices.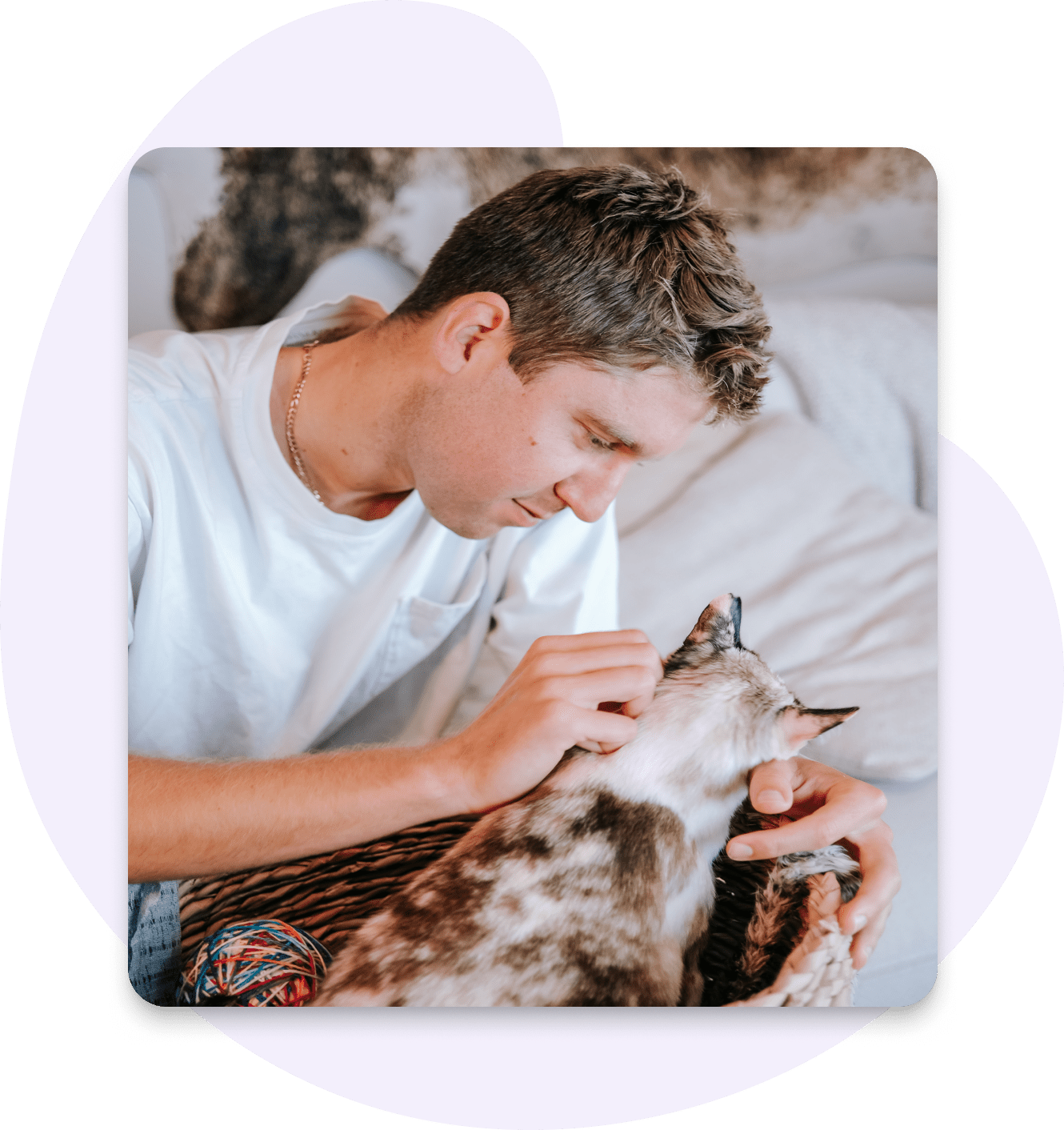 What sets Odie apart from other pet insurance companies? Oh, paw-lease, that's easy!
A variety of insurance and wellness plans, so all cats and dogs have coverage options with no breed or age limits.
Up to 90% reimbursement on all covered treatments.
Short waiting periods ensure all pets receive quick, quality coverage.
Deductibles are based on an annual policy, not per condition.
Flexible coverage options so pet parents can choose the benefits that work for them.
Pet owners can choose the veterinarian they want to see and are reimbursed based on the actual cost of treatment (no maximums).
Rates will not increase based on claim history.
All members have the ability to chat with licensed televets – 24 hours a day, 7 days a week.
Our dedicated support team is available via phone, email, or chat so members and their pets will always get the help they need.
What should I consider in comparing plans?
What is the overall monthly or annual price of your pet insurance policy?
The price of your insurance plan is dictated by reimbursement levels, deductibles, and annual limits. Make sure to look closely at the fine print for each of these factors and consider the following: Are deductibles applied on an annual basis or per condition? Are reimbursements made based on the actual cost of what you paid your veterinarian for treatment, or are they capped at certain amounts?
Will your dog be covered regardless of age, breed, or past diagnosis?
All pet insurance companies exclude pre-existing conditions from their base policies. A pre-existing condition is an illness or injury diagnosed before the pet insurance policy is issued or during waiting periods. However, this shouldn't preclude pets at any age from receiving coverage for future, non-related illnesses or accidental injuries.
Does your pet insurance provider reimburse you for Routine Care?
Routine care refers to general care items and activities necessary to ensure your pet stays healthy. This includes wellness exams, staying up to date on vaccinations, dental cleanings, flea and tick prevention, heartworm prevention, and much more. These items are not typically included in insurance policies, but many providers offer additional wellness plans to help offset the cost of routine care.
Why Odie?
Odie offers best-in-show coverage. See how we compare to other pet insurance companies.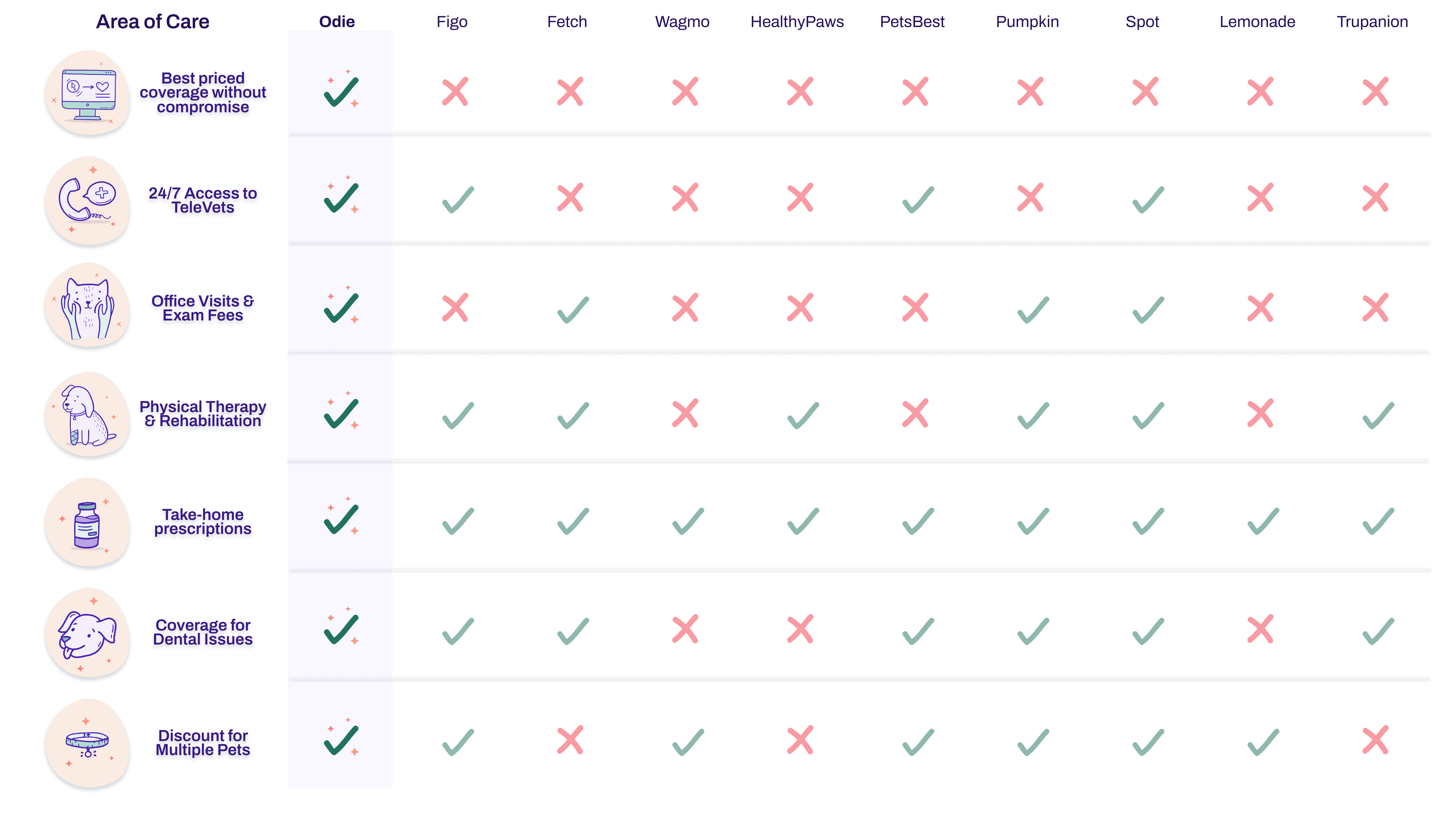 Odie offers best-in-show coverage. See how we compare to other pet insurance companies.
Check out our affordable, comprehensive coverage for yourself
Get your Quote