With that time of year and the holidays approaching, there are many family gatherings, parties, baking cookies, and more. But, unfortunately, bringing the family together sometimes means bringing pets together or going without our furry companions.
The chaotic times surrounding the holidays can be just as stressful on our pets as with us, especially if we are leaving them alone for long periods or having a lot of (strange) people in the house. Nothing can quickly spoil the holiday cheer when you have to rush your pet to the vet due to an accident or even rush a person to the vet because a pet has become aggressive. Even some of the most successfully trained pets are susceptible to being surprised and acting on instinct.
The holiday season is upon us, and whether you decide to have your pets with you during all of the festivities or not, there are some things that you should be cautious of within the home during this time of year. Here are some helpful tips to remind you how to keep your pet safe during these fun, festive times.
Know Where the Food is at All Times
Keeping food away from your pet is crucial for ensuring that your pet doesn't get overfed or given something that could be harmful to its digestive system. It is very tempting for others to want to feed your pet something off of their plates, too, especially if you have a curious pet or looking for a treat. Ensure that your family and friends respect that boundary not to feed your pet.
Obesity is still an issue with domestic animals in the home, and even though you may think just a little bit won't hurt your pet unless you know with absolute certainty – don't do it. Honestly, you shouldn't do it anyway because even if you don't end up with a sick pet, it may enjoy the taste of your food better than its own, and become fussy and stop eating its regular food.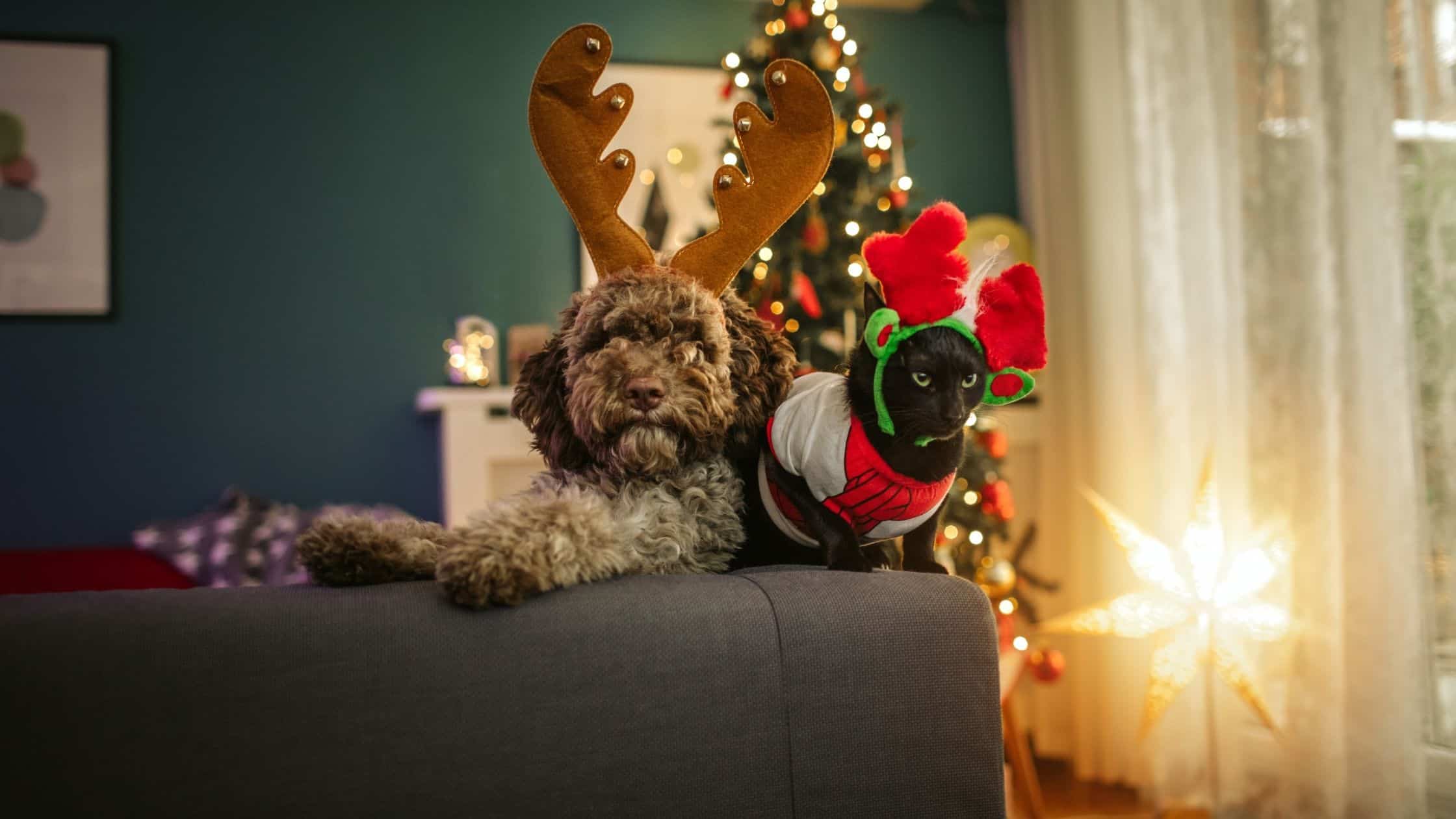 Pet-proofing the Home
The holidays bring many things, including holiday plants like poinsettias or mistletoe. While they are pretty and festive, they can be toxic and lethal to our pets. Keep plants far away from your pets so that they do not accidentally ingest them. Besides keeping those things out of reach, you may also want to ensure that your pet doesn't get into your holiday gifts, so make sure they are stored in a safe, secure spot as well.
The same goes for chocolates, snacks, and other holiday candies and cookies. If you don't keep them safe or stored away, you risk your pet ruining your foods. Since pets don't know when enough is enough, there is also a risk of ingesting too much sugar, which will cause a call and a trip to the vet, or worse – the emergency room!

It can help to have your pet's toys nearby as a way to keep it occupied and busy. In addition, distractions are an excellent option for assisting pets in coping with changes in environment and situations.
Keep Your Pet in a Designated Area
Food, decorations, and ornaments can all be troublesome for our pets. For example, cats sometimes get tangled up in tinsel, or puppies chew on holiday light chords. In some cases, it may be easier just to have your pet avoid all of those things rather than try to puppy-proof each area of your home.
If you visit family or friends and bring your pet along, you might consider investing in a puppy playpen or a crate to keep your pet more secure and comfortable. If you are staying within your own home and hosting holiday get-togethers, you should have a designated space within your home for your pet that is its own, where it will be comfortable and safe.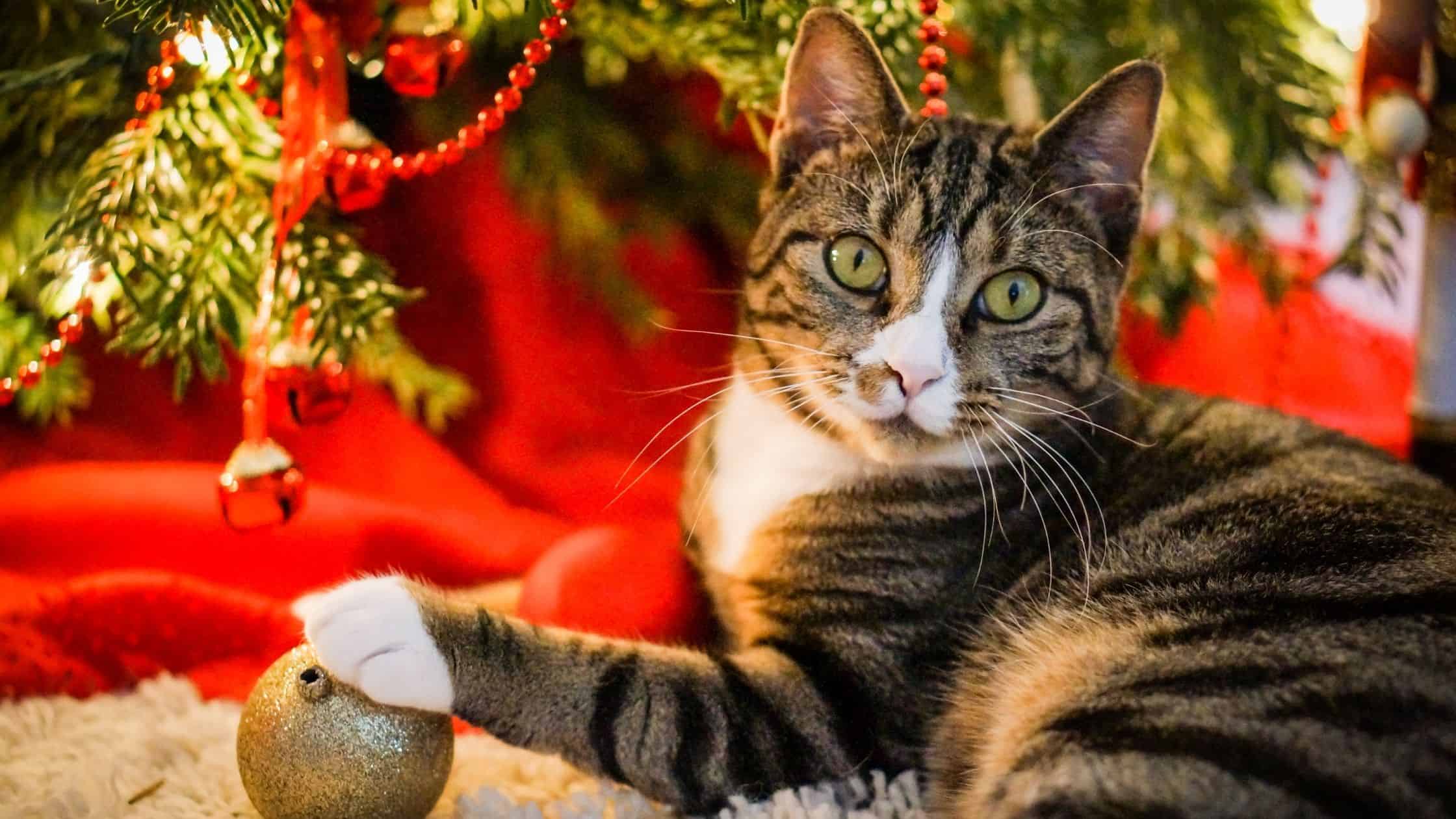 Introduce New People and Situations with Caution
If you are lucky enough to have a pet that is happy to greet new people, they may be just fine with you having many people over at once. However, it is still a good idea even in that case to proceed with caution; introduce your pet in a calm, relaxed environment as much as possible. You do not want to overwhelm your pet with too many people around or kids trying to maul or play with it.
When this type of excitement occurs, pets can become aggressive to protect themselves. So, having that designated area for your pet to escape to is an excellent idea. You might also just want to be sure that your pet isn't feeling too stressed or anxious so that you can quickly diffuse any escalating situation, with your pet behaving with aggression.
If you bring your pet to someone else's house, the same rule applies. You should be sure that you keep things as calm as possible for your pet and try not to overwhelm or cause them to feel anxious. Keeping your pet in a playpen or crate is probably the best approach since you can never be too sure how it may react in a new environment or situation, to begin with. Eventually, as it becomes accustomed to its surroundings, you can let it out of the crate or pen to do some exploring while keeping a watchful eye.
Other Helpful Pet-Safe Tips for the Holidays
The goal of the holidays is to ensure that everyone is having a wonderful time together, including our furry companions. Some other mindful things that you should take into consideration with pets around the holiday season include:
Secure your Christmas tree so that it doesn't fall over in case your pet bumps into it or climbs into it. If you have a cat, lemon-scented car air fresheners or orange peels can help deter it from getting into the tree.
Decorations – It was stated once, but it is worth noting again, be very careful with these around pets! Even though it can be entertaining to watch your pet play with them, they pose a risk for swallowing glitter or plastic or sustaining an injury from broken ornament bulbs.
Pet Care – sometimes it is best to leave your pet home or arrange for it to stay in some sort of pet daycare. When doing this, be sure that your pet will have a good time and enjoy itself or that you fully trust whoever is coming to take care of your pet while you're gone. You do not want your pet suffering from abandonment or separation anxiety in your absence.
Take the extra effort to take care of your pets this holiday season. As much as you do not want things to be chaotic and stressful for you, it can rub off on our furry friends as well. So ensure you go the extra mile to keep them safe and calm so that you all have a happy and joyous holiday.
Give your pets the greatest gift and get them pet insurance! Click on the link to understand pet insurance even more.