Whether you own a dog or maybe received a new puppy for Christmas, your dog is a member of your family, and you'll want only the best for this furry friend. Your dog's health and fitness depend to a good extent on their diet.
Most of us will opt for good quality commercial dog food, while a few may take the home-cooked path and prepare their dog's meals. Commercial dog food generally offers a balance of protein, fiber, vitamins, and minerals necessary for your dog's overall health as well as facilitates meeting specific calorie needs for your breed and size of the dog.
While the dog food aisle in a supermarket may offer you some convenience, you may not necessarily find that many premium brands when dealing with large chain distribution.
So, where do you start when looking for the best dog food, as so many products are available in the marketplace? Well, we've got you covered! We searched for, found, and had our pooches test some of the best dog foods for 2022. Here's what we discovered.
Photo by Ayla Verschueren on Unsplash
Dog Food Types
Pet Supply Stores and Supermarkets can be overwhelming when it comes to choosing pet food as there are so many options. You're not only going to have to select a brand but the kind of food and if it meets any specific needs your pooch may have.
Here are the various kinds of dog food available for purchase:
This is a type of dry raw food where moisture is removed, but the food will need to be rehydrated. They do not contain artificial preservatives but tend to be pricey.
Often referred to as kibble, this is formulated in bite-size pieces for the size of the dog. Quality varies depending on the ingredients and preparation method. This food has a longer shelf-life and can be a budget-friendly option. Chewing dry food helps keep teeth free of plaque and tartar.
Whether cooked or raw, freeze-dried foods are frozen and then have the moisture removed, they will need rehydration before being served but do not require artificial preservatives.
If you want your pooch to have what nature would provide, fresh or frozen raw or cooked food generally offers high-quality nutrition that requires no need for preservatives.
Made with human-grade ingredients in a human food-producing facility. Theoretically, it is fit for human consumption.
If your vet has diagnosed your dog to have a health condition, prescription dog food may be prescribed. Formulated for health problems, they are more expensive. Best used when specifically indicated by your veterinarian.
Usually sold in cans or plastic pouches, it offers superior moisture content. Higher quantities of protein and fat undoubtedly make it more appetizing but also higher in calories. Look for added flavoring, colors, and preservatives. Once opened, it needs to be consumed within a day or two and refrigerated.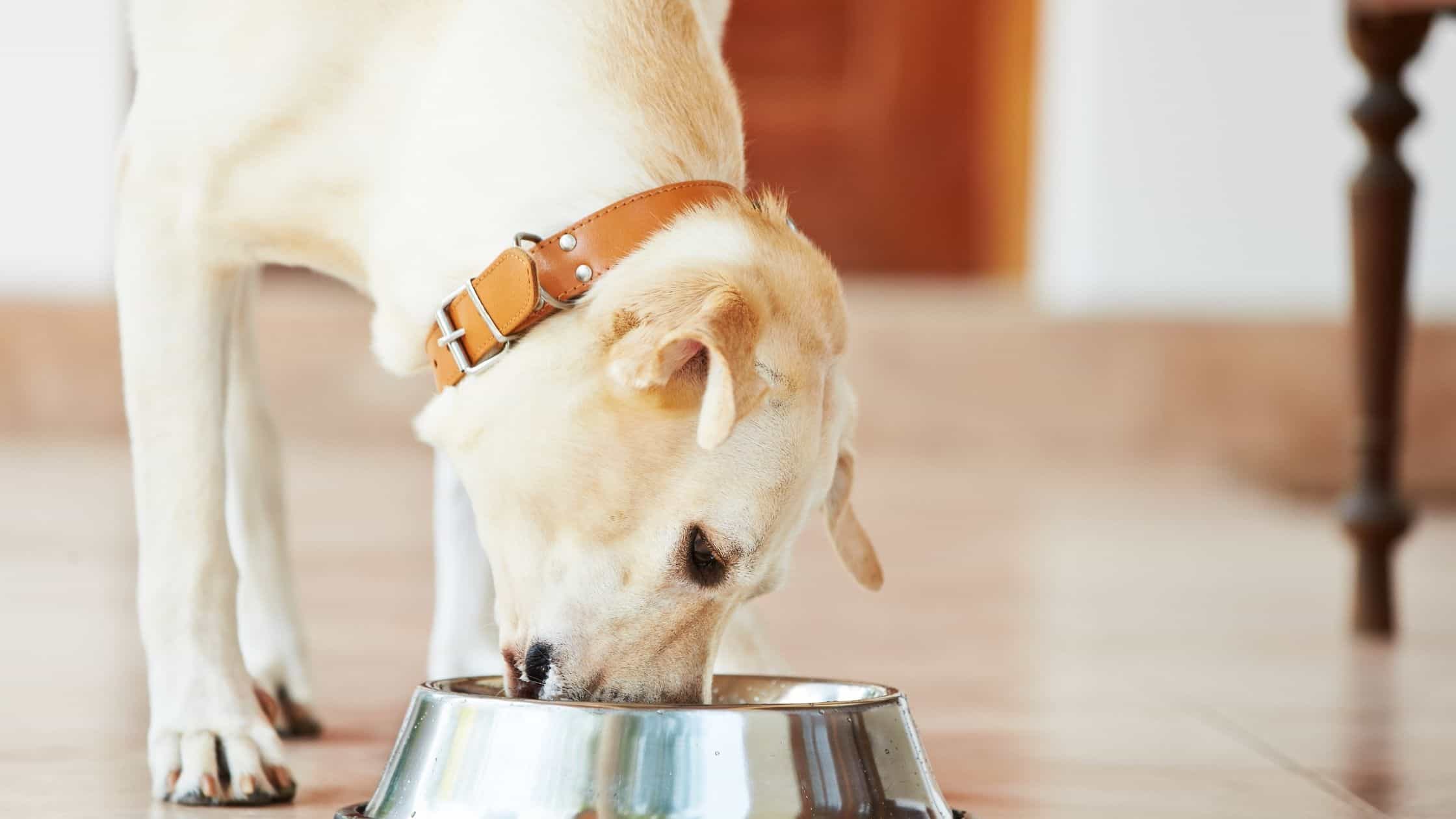 Our List of Favorite Dog Foods for 2022
#1 Nom Nom Fresh Dog Food
If you are looking for the very best, this premium dog food service from NomNomNow delivers fresh food weekly. It's like providing your pooch with a personal chef. Restaurant-quality foods offer top-notch nutrition without the addition of preservatives. You complete your dog's profile, creating a custom-designed diet for nutrition and calorie intake needs. A weekly supply of food is delivered fresh and can be frozen or stored in your refrigerator until use. If you're not ready to subscribe, try a variety pack to get started.
Pros: A personalized diet that meets your dog's nutritional needs and is freshly cooked and delivered right to your doorstep.
Cons: Very expensive with limited menu choices.
#2 Taste of the Wild Dry Dog Food
This is a quality dry dog food that creates protein-rich kibble with roasted meat without the use of fillers, grains, or artificial preservatives or ingredients. Popular Taste of the Wild Dry Dog Food recipes include venison and bison, smoked salmon, lamb, and duck. Some recipes are entirely grain-free, while others use ancient grains such as millet, chia seed, quinoa, or sorghum to round out diets. Corn and wheat are not used as colors, flavors, preservatives, and fillers are also rigorously avoided.
Pros: Protein and healthy fat-rich meats without additives are used to mimic a dog's natural diet in the wild. Chelated minerals and probiotics are integrated for good digestion and healthy fur and skin.
Cons: Some dogs may have sensitivities to some meats used in the recipes.
#3 Instinct Raw Boost Kibble + Raw Dog Food from Nature's Variety
While dry food is a healthy and convenient choice in dog food, Instinct Raw Boost Kibble goes a step further. This is a quality dry dog food, but freeze-dried bits of raw meat are mixed in, and they not only improve the taste but add some extra nutrition to the formula. If your dog has any sensitivities to grain or potatoes, not to worry, as these recipes do not use either. They also do not use artificial colors or fillers. Manufactured in the U.S., this high-protein kibble with freeze-dried raw meat bits meets all of your dog's nutrition requirements.
Pros: Protein-based dog food with raw meat bits make for an appetizing meal for your pooch free of grains, fillers, or the like. Contains nutrition supplements. Made in the U.S.
Cons: Expensive. Some flavors contain chicken products in the event your dog has chicken sensitivity or intolerance.
#4 Orijen Freeze-Dried Biologically Appropriate Dog Food
If you like the idea of freeze-dried kibble, this is a popular and highly-rated dog food. Orijen sources ingredients locally to replicate a dog's evolutionary diet. 85% of the recipe uses protein from fish, poultry, and eggs; the remaining 15% comprises fruits, plants, and vegetables. Potatoes, grains, concentrated plant protein, and tapioca are not used at all. 38% of the food is premium animal protein and 18% crude fat. Probiotics, chelated minerals, and animal organs are integrated.
Pros: Grain-free with 85% of ingredients from meats and eggs.
Cons: Expensive. It may contain chicken ingredients.
#5 Zignature Zssential Wet Dog Food
If Pooch prefers wet food or perhaps needs a diet high in moisture, this wet dog food from Zignature is an excellent alternative thanks to a grain-free multi-protein formula. Stating that this dog food is tasty is an understatement. Zignature creates a wet food blend of salmon, turkey, chickpeas, cranberries, and peas that are all sustainably sourced. A limited-ingredient recipe is also available and eliminates the risks to some dogs' health by not using wheat, corn, soy, potatoes, or chicken while offering a low-glycemic hypoallergenic alternative. Nutrition necessities are met with vitamins, minerals, fatty acids, and antioxidants.
Pros: A great option for dogs with food intolerances and sensitivities. High in protein.
Cons: Expensive. The non-LID recipe contains turkey so for poultry-sensitive dogs, it may be ill-advised.
#6 Honest Kitchen Dehydrated Whole Grain Dog Food
Honest Kitchen offers human-grade food produced in a human food production facility. Various meats, grains, probiotics, and fats are cold-pressed into bite-sized pieces and then dehydrated meaning they will maintain taste, aroma, and nutrients. There are no fillers, preservatives, or artificial flavors.
Pros: Human-grade ingredients retain nutritional value through dehydration.
Cons: Expensive. Your dog may prefer these rehydrated due to texture.
#7 Iams Minichunks High Protein Dry Kibble Dog Food
If you own more than one dog or perhaps are on a budget but still want to provide quality nutrition to your pet or pets, Iams offers an affordable option with their Minichunks Dog Food. It is made from farm-raised chicken to meet protein needs and does not contain preservatives or fillers. It does integrate vitamins, minerals, vegetables, grains, and fruit and is enriched with I-carnitine.
Pros: Very affordable, nutritious dog food.
Cons: Contains chicken and corn, so it may not be appropriate for dogs with allergies or sensitivities.
#8 Wellness CORE Grain-free Dry Dog Food
Wellness CORE uses chicken, turkey, and salmon oil mixed with vegetables, fruits, vitamins, and minerals for a nutrient-rich dog food. It is fortified with antioxidants, fatty acids, probiotics, minerals, vitamins, and more. No fillers, corn, soy, or similar are integrated.
Pros: Packed with protein, fortified with nutrients, and does not contain fillers.
Cons: Expensive. Contains poultry products.
#9 American Journey Grain-free Dry Dog Food
American Journey Grain-free dog food is free of wheat, soy, and corn but full of vegetables, fruits, vitamins, minerals, and antioxidants. High in protein, it contains amino acids, omega 3 and 6 fatty acids, and fiber.
Pros: High in protein and grain-free. More affordable. Limited Ingredient Recipes.
Cons: Limited flavors.
#10 Purina Beyond Simply
Purina offers a budget-friendly option with this high-protein limited-ingredient recipe. It is produced in the US and is free of wheat, corn, soy, or artificial flavors, colors, or preservatives. Digestive health is supported through probiotics and fatty acids that contribute to fur coat and skin health and complete nutrition.
Pros: High in protein with minerals, vitamins, probiotics, and fatty acids added for complete nutrition.
Cons: Made with chicken if your pooch has an allergy.
Photo by Wade Austin Ellis on Unsplash
Conclusion
When selecting your best dog food, it should be one that your dog loves to eat and that your wallet can afford long term. A consistently fed top-quality dog food is a great investment and may very well save you some trips to the vet as it will contribute to the overall general health of your dog. Whatever you choose, buy the best quality dog food you can. Man's best friend deserves no less.
You can read more about pet insurance and dental care here.