This post contains affiliate links, and we will be compensated if you make a purchase after clicking on the links.
Regular vet visits are important for a healthy pup. Your veterinarian can help you with everything from suggesting a new diet for your dog to helping you control your dog's marking behavior. Vets have had specialized training to offer tips on giving your furry friend the best life. Take advantage of their knowledge by asking questions during the next vet visit. Here are seven questions to ask your veterinarian about your dog to get you started.
1. Could my puppy have any diseases?
Even when you've selected your puppy carefully, sometimes the breeder, pet store, or shelter unknowingly gives you a pup with an illness you can't see (such as a gastrointestinal disease or heartworm). So during your first vet visit with your new puppy (or adult dog), you'll want to ask your vet if it's possible the pup has a disease that may or may not be showing symptoms. Your veterinarian can test for fleas and other skin parasites, gastrointestinal parasites, respiratory issues, and heartworms. This initial exam with your vet is crucial for detecting any health issues early on so they can be treated before they become life-threatening.
2. When will the barking and howling at night stop?
Young puppies are used to sleeping with their littermates, so sleeping alone is a big transition for them. They may howl, bark, or whine from their kennel as they adjust. This will typically last only a few days, especially if you help them transition by giving them soft blankets or stuffed toys to sleep with. They'll commonly still whine or bark during the potty-training time, but if you notice they simply want to play when you get them out to go potty, it could be time to train them to sleep through the night.
At your next vet visit, ask your veterinarian for tips on how to tell what your barking dog needs and how you can train them to sleep through the night. They'll be able to help you pinpoint what your pup wants or needs and give you training techniques.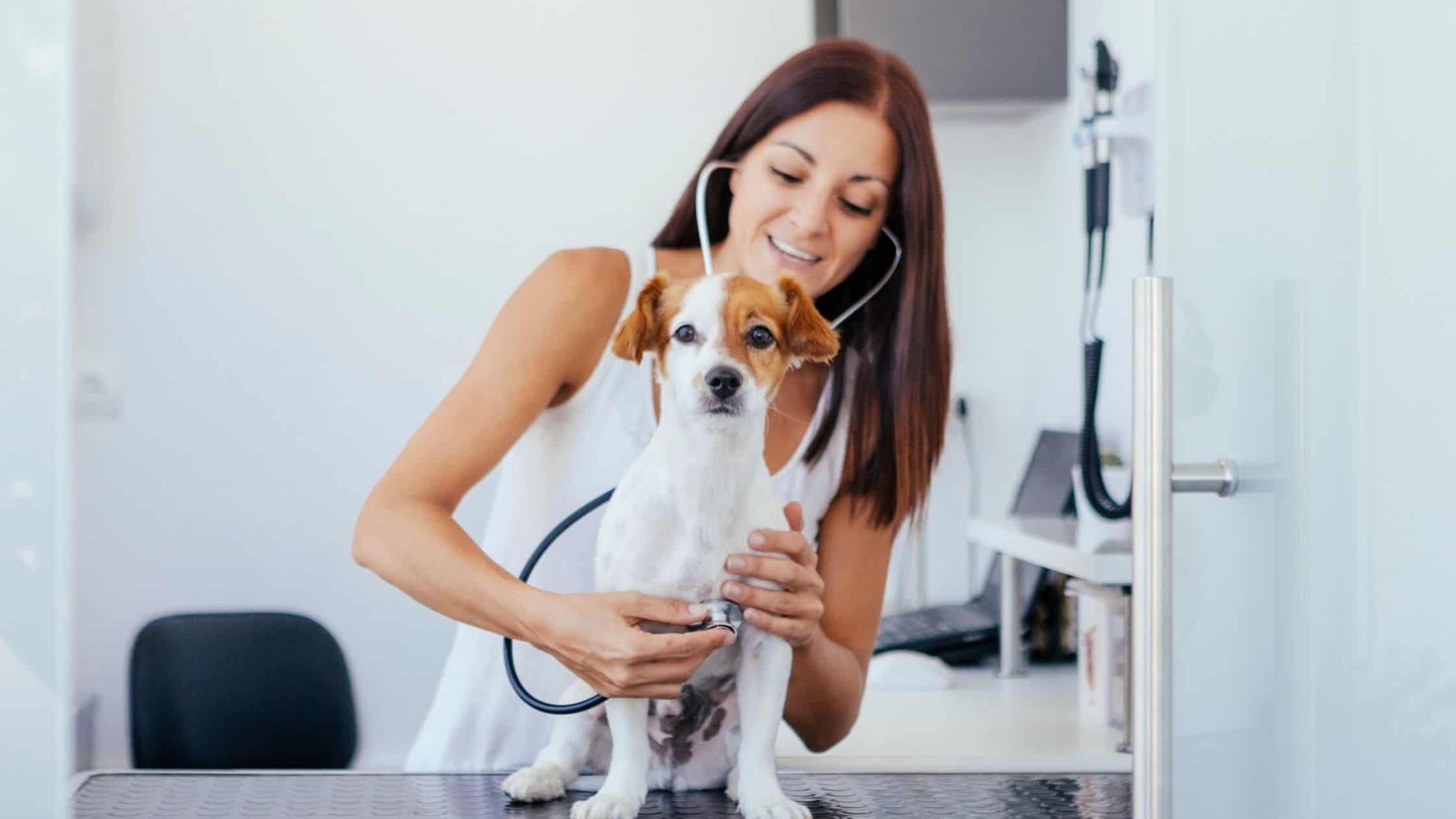 3. Which vaccinations do you recommend?
Vaccinations have been and will continue to be a topic of controversy. Whether discussing people or pets, some people are for vaccines, and others are against them. If you're not sure whether your puppy needs to be vaccinated, ask your vet's opinion.
While they will likely recommend common vaccines, some vaccines (such as the rabies vaccine) are required by state law. Your local veterinarian can help you know which vaccines your pup will need based on where you live, his health history and genetics, his age, and his lifestyle (such as whether he will live mostly outdoors or whether he'll go to doggy daycare while you're at work).
4. Can you provide a tailored nutrition/diet plan?
Even if your dog isn't having weight issues, asking your veterinarian about your pup's diet can help him live a long, healthy life. The vet will examine your furry friend's current health, lifestyle, age, and other underlying factors to determine the types and brands of food he should be eating. They'll often recommend foods with real ingredients, such as chicken or fish, and caution you to stay away from foods with preservatives, additives, and animal by-products. Just as proper nutrition is essential for growing kids and adults, foods high in nutrients can help puppies and adult dogs live their best lives.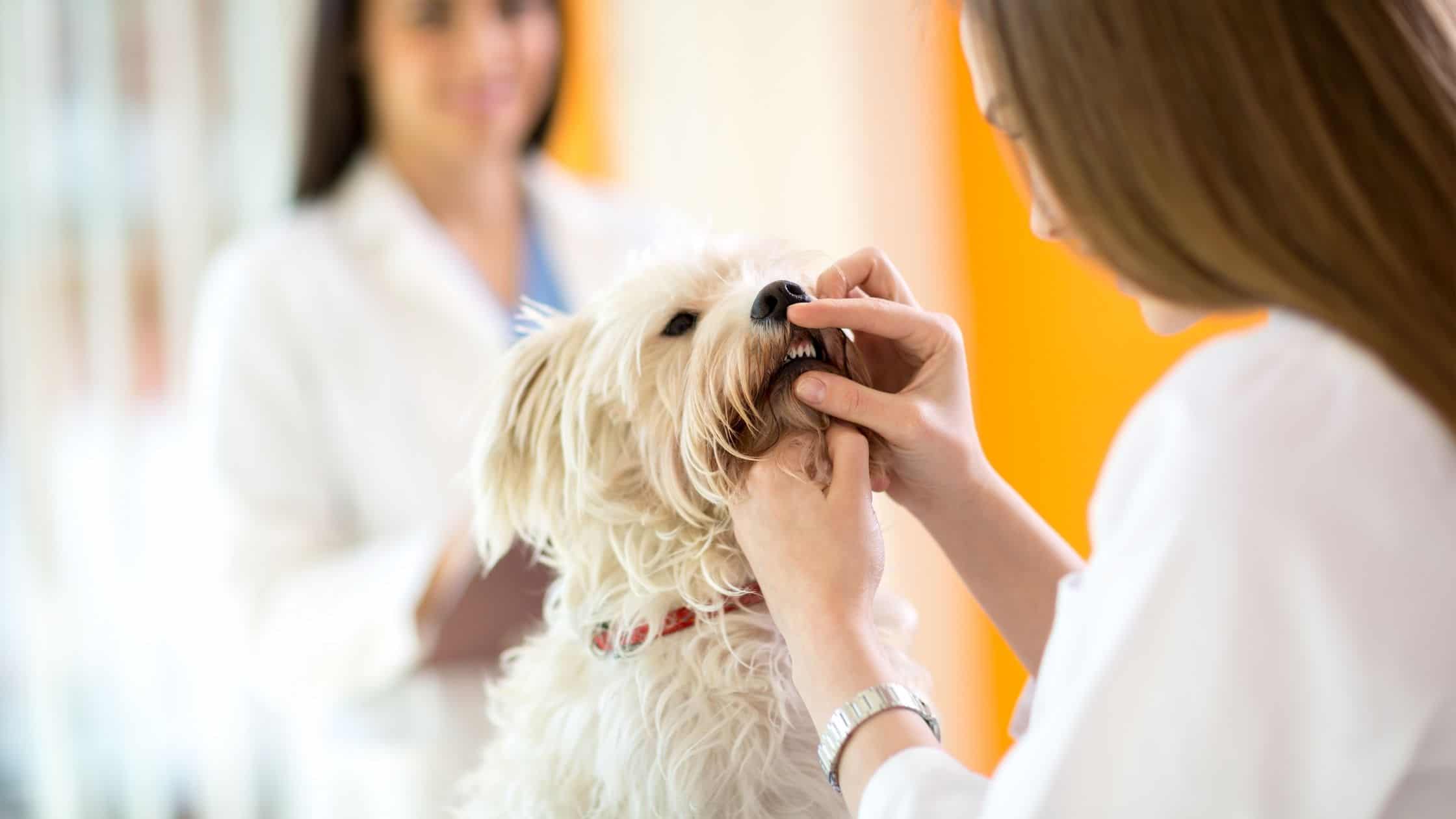 5. When should I schedule dental cleanings for my dog?
About 80% of dogs over the age of three years have some form of dental disease. Unfortunately, pet owners often neglect to care for their pup's teeth at home and rarely (if ever) schedule a professional dental cleaning appointment. If left untreated, poor dental hygiene leads to periodontitis and heart, liver, and kidney issues.
Ask your veterinarian if you're wondering whether it's time to schedule your furry friend's dental appointment. They can let you know if your pup is ready for it and reassure you that the procedure is safe. Plus, they can estimate the cost of dental cleaning at their office.
6. Does my dog need Flea/Tick medication?
Protecting your dog from flea and tick bites can save them from contracting deadly diseases. If you're not sure which kind of medication for fleas and ticks is right for your pet, you can ask your veterinarian for advice. They'll help you decide if topical or oral medications are best for your pet's lifestyle.
7. Should I microchip my dog?
As much as we wish we could prevent it, sometimes puppies and dogs get away from us. They dig under or jump over the fence, pull the leash out of our hands, or slip out of their collars. It's a terrible experience (for both us and our pets), but we need to be prepared in the event that it happens.
Pet owners can be prepared for escaped dogs by having their pets microchipped. The microchip is placed under the dog's skin, similar to how they are given a vaccine. Vet offices and shelters can then scan lost dogs and pull up the owner's information. A microchip can reunite humans and pets, even if the dog slipped out of its collar or lost its tag.
Your veterinarian can help you decide when it's the right time for you to get your puppy microchipped. They can also explain the procedure, so you'll feel comfortable having your pet microchipped.
Ask Your Vet
Your local veterinarian has a lot of knowledge and insight they can share with you. Any time you want more information about your dog, don't hesitate to ask questions. The seven questions above can help you get the conversation started, but there are so many others that you may be burning to ask, such as if pet insurance is right for you and your dog.
Veterinarians are well-versed in pet insurance and know your dog's unique medical history. And beyond your pet's needs, they also have expert knowledge of different dog breeds and the common medical issues associated with them. All of this information can help you decipher which pet insurance plan may be best for your budget and the future of your furry family member.
More About Pet Insurance
Vet visits are important for properly caring for your dog's health and getting all your pet parent questions answered, but they can get expensive. Odie Pet Insurance helps you cover the costs of veterinary treatments and exams, and its Wellness Plan Add-On can help reimburse for routine care items.
With Odie Pet Insurance, our affordable pet insurance for dogs can include the following:
Dogs are hearty but susceptible to accidents, unforeseen illnesses, and chronic conditions due to their age, breed, and genetics. Odie's pet insurance can cover these conditions.
Diagnostic procedures like X-rays, CT scans, ultrasounds, and surgery are also covered with pet insurance, so you can be proactive in helping your dog receive the proper diagnosis needed to move their plan of care along.
One of the benefits of pet insurance for dogs from Odie is that you can add routine pet care coverage. Whether you have a puppy in need of frequent vaccinations and vet visits or an elderly dog prone to age-related conditions, routine pet coverage will pay off for the cost savings—and the peace of mind that comes with it.
Do you know that your pet may need extra care coverage over his or her lifetime, like medications? You can get added coverage for everything from vet exams and office visits to rehabilitation and over-the-counter medications.
Your pup is a member of your family, so they deserve the same level and quality of care as you do! The main benefit of pet insurance for dogs is that no matter your pup's age or medical needs (either chronic or acute), you can have the peace of mind that he or she can receive the right care when they need it the most without taking a major toll on your wallet.
With Odie's, affordable pet insurance works by paying into a monthly policy — just as you would your own medical insurance — and your pup gets protected against the bigger bills when they inevitably come. And no matter your pet's age or medical history, there will be bills to face.
How often should you be taking your pet to the vet? Read more here.
Sources: