Dogs are a special gift. They're loyal, friendly, selfless and offer tons of unconditional love. And while we can spend all day listing reasons why we love dogs, tomorrow is an extra special occasion…
Tomorrow, August 26, 2020, it's National Dog Day!
All across the country, humans are celebrating dogs and encouraging adoption. Whether mixed or purebred, dogs deserve to live a happy and safe life. So tomorrow spend a day with your furry friend and give them a time to remember. Not sure what to do? Here are some of our favorite ways to spend National Dog Day.
1) Adopt a dog from your local shelter or rescue.
If you are looking for a companion, there are so many shelter and rescue dogs who need loving homes. In an effort to take business away from puppy mills, it's important that us dog lovers take care of the dogs who need our help. Check out organizations such as Hearts & Bones Rescue, Vanderpump Dog Rescue Center, and Badass Brooklyn Animal Rescue for starters.
2) Donate to your favorite dog organization.
Donate what you can to your favorite canine organization. There are many ways to give from a simple $5 to supplies such as peanut butter and towels to hosting a community event. Ask your dedicated dog program what help they need.
One of our personal favorite organizations is K9s For Warriors. They provide service K9s to veterans suffering from PTSD or traumatic brain injuries.
3) Wake up early and take your pup out for a sunrise walk.
Sure that means 6:00 AM, but it also means a gigantic smile from your dog the rest of the day.
4) Cook your dog breakfast.
Ditch the kibble and make them a fresh meal. Check out this yummy recipe which can be cooked in 30 minutes.
5) Schedule a playdate.
We love nothing more than hanging out with friends on our day off. So do your dogs! Schedule a playdate with their buddies and let them enjoy the company of other pups.
6) Teach them a new trick.
Dogs love to learn. Open up that puppy training manual and teach them something new. It can be roll-over, kiss, shake hands, or fetch. Your dog will love the attention and friends will be impressed with your "well-behaved" dog's skills.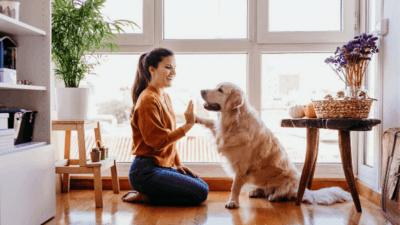 7) Go for a car ride.
Use a route you don't typically use so your dog can enjoy all of the new smells and sights. Or take the long way on your way to the desired destination — dog park anyone?
8) Take them on a hike or to the beach.
Where ever you and your pup may reside, be sure to enjoy the great outdoors together. Enjoy a calming hike or splash around at the beach. Either way, both of you will be getting some exercise.
9) Head to the park and let your dog be a dog.
Let him or her roll in the grass, chase birds and squirrels, dig holes, and play fetch. The freedom will make them feel like a million bucks.
10) Go swimming… or run through sprinklers.
If your dog loves to swim, head to the pool or a nearby creek or lake and let your dog get his water on. Don't live near water? Turn on the sprinkler and show your dog how much fun biting the water can be.
11) Let your dog pick out a new toy.
Head to your local pet store and roam the aisles. Let your dog lead the way and sniff out what he or she wants. They'll go home with something they love almost as much as you.
12) Play hide-and-go-seek.
Let your dog show off his sniffing skills. Start off by hiding in some obvious places then increase the difficulty level. Good places: bathtub, behind a curtain, under the bed, behind a tall plant. It's a good time.
13) Give your dog a luxurious bath.
I know, most dogs hate baths but you're going to want a clean pup for all the snuggles you're about to have.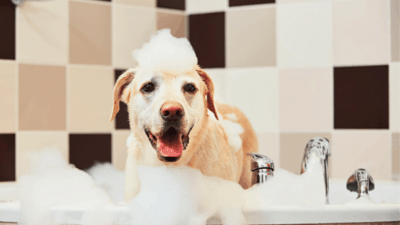 14) Have a photoshoot.
You know your dog is the cat's meow and should be Instafamous. Whip out the old camera or use your phone and take some fun glamour shots. Just be sure to get the lighting juuuusssttt right.
15) Massage their paws.
Get the paw palm out and give them a soothing paw massage. Just like us, they're constantly on their feet and without shoes! Just imagine the relaxation of a long paw massage.
16) Get some specialty made dog treats.
Some pet stores will offer specialty dog treats such as pupcakes or frozen yogurt pops. If you'd rather make your own, try baking peanut butter cookies like these treats by Damn Delicious.
17) Set up an obstacle course.
We call it agility training. Your dog calls it fun! Not only will it help improve your dog's attention span, it will increase their flexibility as well. Here's an easy intro course using household items:
Stack two sets of books and place a broom on top. This will introduce an easy jump so start off nice and low.
Do circles around the dining table.
Teach them to crawl under a chair.
Use a toy or towel to teach them to spin.
18) Give them a long belly rub.
Longer than usual. Really put your back into it. This shouldn't be an ordinary belly rub; it's not an ordinary day. Put on some music to set the vibe. Do you want fun pop or relaxing acoustic sounds?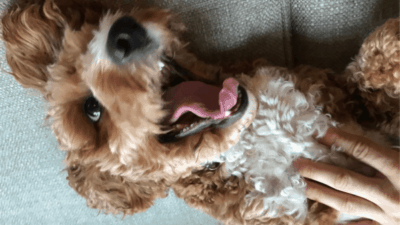 19) Brush your dog's coat while you praise them.
Regular brushing is essential to keeping your dog's coat healthy. Why not give your dog a relaxing brush and tell them how much you love them? They may not understand exactly what you're saying but they do understand the tone of your voice. Keep it light and loving.
20) Snuggle up to a movie and share a few bites of popcorn
At the end of your long day, get cozy on the couch, wrap your dog up in a little blanket and put on a cute movie. We suggest "Up" but that's just us. And yes, you can share a few pieces of lightly salted popcorn with your bud.
Keep celebrating your pup with the right amount of pet coverage, even supplemental benefits if you need. Just make sure your pup is happy and healthy.
Planning to get insurance for your fur babies? This article provides a guide to understanding pet insurance.