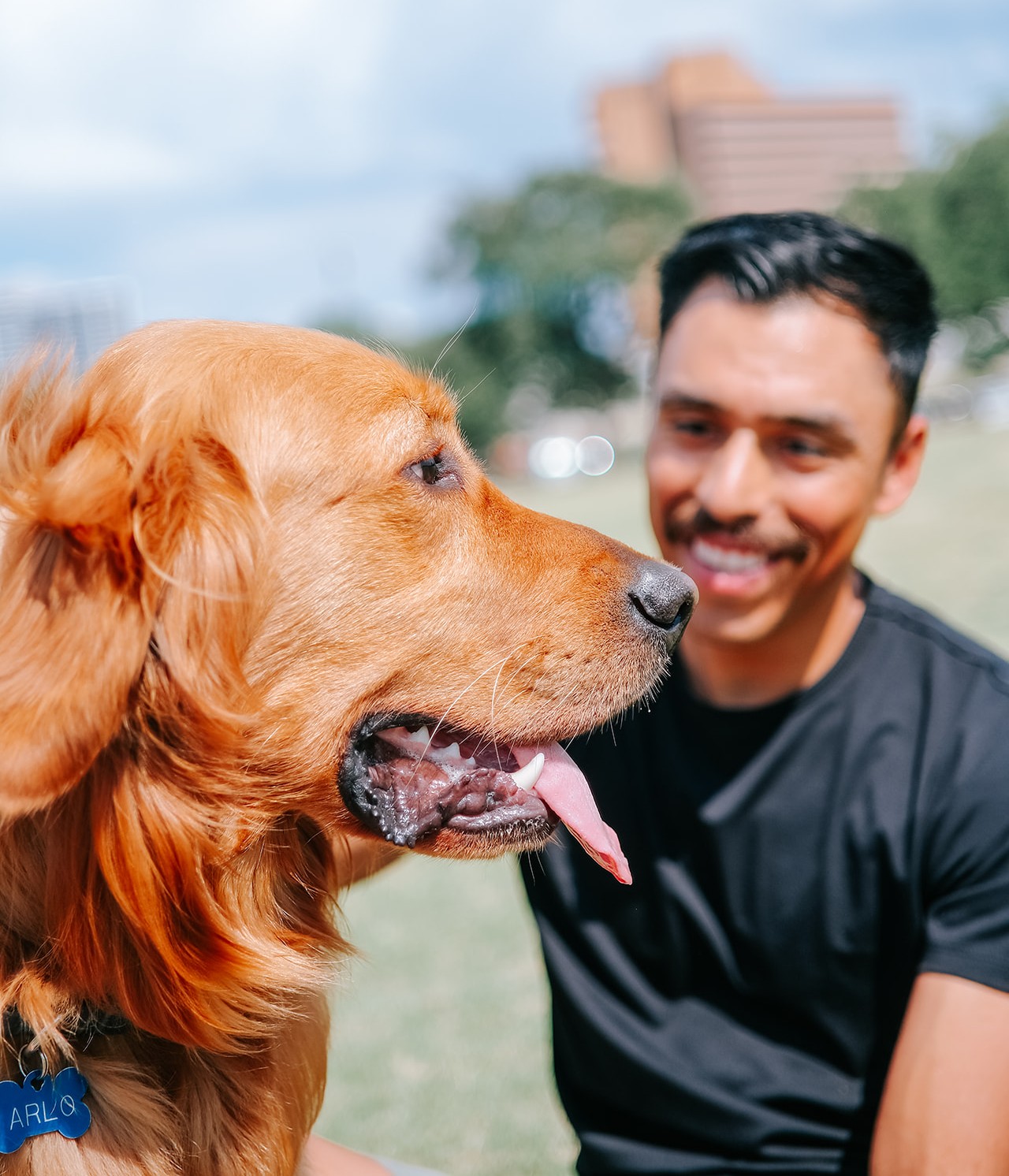 Dog insurance can make your dog's future medical bills considerably smaller.
We still often think that, because our pets are smaller than us (in most cases), their medical bills should be smaller, too. But that isn't always the case. If you've been to the vet without insurance, you'll know that even a wellness check and a couple of vaccinations can cost you hundreds and sometimes thousands.
The good news is that we made dog insurance affordable; for less money than you pay for a night out at the movies, you can get a monthly plan that will cover many kinds of medical procedures.
What's covered?
Our plans cover a wide range of accidents and illnesses.
Accident & injuries
Illnesses
Hereditary Conditions
Congenital Conditions
Hip Dysplasia
Knee Injuries
Dental Injuries
Periodontal Disease
Hospitalization
Emergency Care
Chronic Conditions
Surgery
What's not covered?
Unfortunately, like most pet insurance companies, Odie does not cover the following points:
Pre-existing conditions
Repetitive and/or Behavioral Conditions
Training/obedience class
Spaying/neutering
Breeding, pregnancy, or birth expenses
Prescription food or supplements
Boarding
Dental cleaning
Cosmetic or elective procedures
How to get themost out of Odie
We want you to have a great experience with Odie, that's why we believe in setting expectations up front.
Buy insurance before an accident or illness occurs

The best time to purchase Odie is whenyour pet is young and freeofhealth issues. Like any pet insurance, we don't cover pre-existing conditions. If your pet has been treated for or is already showing signs or symptoms of a condition, it likely won't be covered.

Get your pet a wellness exam

Make sure your pet has had a nose-to-tail wellness exam within the last few months and is up to date on their vaccinations. This helps us verify that your pet is free of any health issues and your future claims can be covered.

Add Routine Care coverage to your policy

While insurance is a great way to cover emergency situations such as broken bones or dental fractures, a Routine Care plan can supplement your insurance policy by reimbursing you for wellness care items such as vaccinations and flea medication.
Understand the Terms
Let us break it down
Pet insurancecan be confusing. We're here to help you understand what you're signing up for.
Apre-existing condition is any condition that was diagnosed before the policy started or during the waiting periods. This includes any condition for which a veterinarian provided medical advice, the pet received treatment for, or the pet displayed signs or symptoms consistentwith the stated condition.

How pre-existing conditions work

If your petis already injured or ill before a policy is purchasedor during the policy's waiting periods, that condition will not qualify for coverageby any pet insurance provider. The good news isyour pet will be covered for any future, non-related injuries or illnesses under your pet's policy.

The waiting period is the time between when your policy starts and whencoverage begins. Waiting periods vary based on the type of coverage in your policy.

What are my waiting periods?

The below waiting periods begin from the policy effective date and can be viewed on the declarations page of your policy document.

Accidental Injuries: 3 days
Illnesses: 14 days
Cruciate Ligament Events: 6 months

How waiting periods work

If your pet gets hurt, sick, or suffers a ligament injury during the applicable waiting period, that condition will not be covered and will be considered a pre-existing condition since it occurred before the coverage start date. The waiting periods reduce fraudulent claimsand keep premiums at an affordable rate.

The annual limit is the maximum amountthat the policy will pay in any annual term.

How annual limits work

Let's say you selected a plan with a $10,000 annual limit. That means Odie will cover up to $10k in eligible claims within one policy yearand will reset on the policy anniversary date.

Theco-insurance is the amount you pay out of pocketfor before the application of your chosen deductible.

How co-insurance works

As an example, let's say you selected a plan with a 90% reimbursement.Odie will reimburse up to 90% of all eligible charges, leaving you with only 10% out of pocket.

The annual deductible is theamount you pay outof pocket towards thecost of veterinary treatment,after your co-insurance has been applied. Your deductible will reset on the policy anniversary date.

How annual deductibles work

Let's say you selected a $250 annual deductible. This is the amount you will pay out of pocket before your plan begins to reimburse you.Once you've hit your plan's deductible, you won't have to pay it again until your policy renews.
Save up to 5% when you enroll two or more pets!
Automatically applied at checkout when you sign up two or more pets for an illness and injury policy. (Or add a second one later)