The founders of Bonne et Filou, Nico and Linzi, share how they started the first French dog macaron company fit for canine royalty.
Last Thursday, April 30th, was our Odie mascot's, Summer, seventh birthday and we wanted to treat her with something extra special. We usually would take her to get a Puppucino from Starbucks, spend a day at the beach and get some pupcakes to go, but this year's coronavirus quarantine needed that extra touch of luxury.
Fortunately, our friends at Bonne et Filou make the most beautiful box of dog macarons and other dog treats were perfect for our paw-rincess. Of course, being the pet lovers that we are we can't keep these Instagram-worthy treats to ourselves! We asked the founders, Nico and Linzi, if they would share the story of their sweet beginnings.
[Odie Interviewer] Let's start with what inspired you to start Bonne et Filou.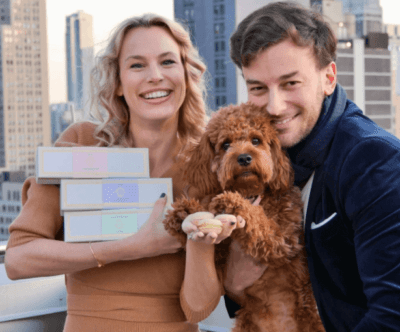 [Nico] I'll start with the business part and have Linzi tell you the rest. The market for pet treats is big, however, most options use artificial ingredients and are bad quality. There are a few innovative products that are all-natural or single ingredient but not many, if at all, are French or high-end luxury. We wanted to create something that would be a differentiator in the market.
[Linzi] When Nico was first courting me, he would go to a local, luxury bakery and buy a box of macarons. He would take a bite of half, I have this thing where I like to taste them all, and place the box in my purse. It's a bit of an inside joke. We then got our dog, Filou, and she is super spoiled. She would try to eat the macarons and that's when we realized there wasn't a luxury treat or "regal" treat on the market for dogs.
[Nico] We really looked at the market and saw an opportunity.
[Odie] I actually really love that your treats are made with quality ingredients not all of the fillers you find in dry dog food. How did you come up with the recipe for the dog macarons?
[Nico] A regular macaron is full of sugar and obviously you don't want to put sugar in dog treats. We worked with a nutritionist and multiple vets to figure out what ingredients were safe and how to make our product look like the original. The biggest issue was the shape and making the filling. We now use just three ingredients for the shell of the macaron and an all-natural yogurt filling.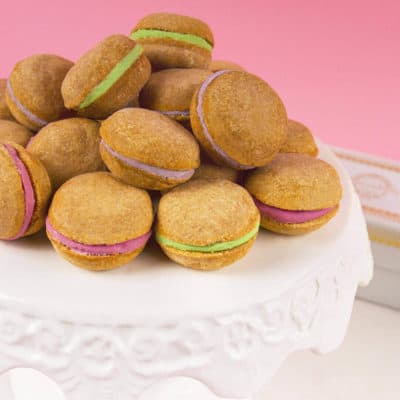 [Linzi] We were very conscientious of the ingredients. I'm a very healthy person and wanted to make this an all-natural, human grade product. The macarons are handmade of the same things we would feed ourselves. For example, instead of sugar, butter and flour, we replaced the ingredients with coconut oil, honey, and oat flour.
[Nico] There are no preservatives, no artificial colors and are wheat free. It took about 9 months to come up with the perfect combination.
[Odie] It sounds like humans could eat them as well. Have you ever tried them yourselves?
[Nico] Yes! I think we've eaten a few dozen at trade shows when we couldn't leave the table.
[Linzi] Oh yes, I've definitely eaten quite a few.
[Nico] The biggest difference is that they are quite dry compared to human macarons because of the reduced moisture content. They're made to have a shelf-life of 12 months.
[Odie] That's a long time. When would you recommend a pet owner give their dogs this type of a "high-reward" treat?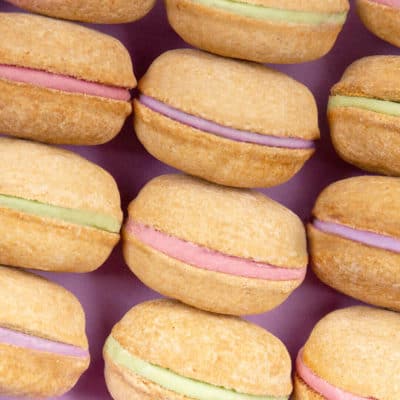 [Nico] These were designed as a high-reward treat and not a training treat. With Filou, we give them to her when she is behaving better than usual. Like if we take her for a long walk and she plays or listens very well, we will give her a macaron when we get home. It really depends on how often you want to give your dog something special.
[Linzi] Filou is funny. She will take the treat but not eat right away. Almost like she is saving it for later.
[Odie] That's so cute! She's savoring the experience.
[Linzi] Exactly!
[Odie] So, how often are your customers purchasing your treats?
[Nico] Each customer is purchasing them for something different. We have some clients that give their dogs a macaron every 1-2 days and have a regular subscription. Others once a week.
Then you have those who purchase them solely for special occasions and birthdays. Mother's Day is coming up this week and Bonne et Filou is a great gift for dog moms.
[Linzi] You'll also see clients purchase them specifically for their social media pages. I know our dog, Filou, has more Instagram followers than we do! We wanted these to not only taste good but look good too.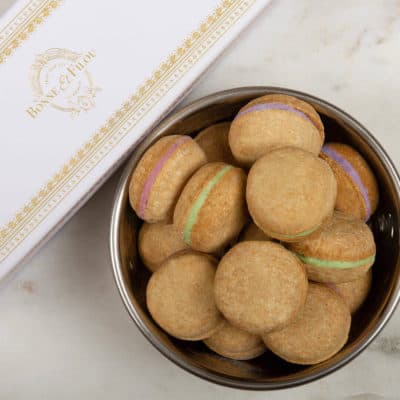 [Odie] How can customers purchase Bonne et Filou?
[Nico] Customers can purchase them directly on our website. A single box of 6 macarons is $23.99.
Or you can purchase a set of 3 boxes for $64.99
[Odie] You also have a subscription option, is that right?
[Nico] Yes. You can find the subscription option on the purchase page and choose how often you want them delivered.
[Linzi] We almost forgot to talk about the best part! How we came up with the name.
[Odie] Oh yes, it's so cute! How did you come up with the name Bonne et Filou?
[Nico] Bonne and Filou were both the two favorite dogs of French King Louis XIV. These dogs were treated better than any human in the palace. They both had sleeping chambers next to the King's room and had private chefs. They were like mini kings and queens.
[Linzi] It's how you see many dog owners treating their pets nowadays. We treat Filou like our own child. Dog lovers want to spoil their pets, and what better way than with a French dog macaron fit for your royal pup?
To keep your pup healthy, team up with Odie Pet Insurance. Get exactly the insurance you need…
Read more about the limits and benefits of pet insurance.