We're here to help you understand the ins and outs of pet insurance.
We all understand that our pets are part of our family. We love our dogs, cats and other little friends to the point where we'd do just about anything for them when they need our help. When we bring our new friends home for the first time, we tend to understand that there will be medical costs associated with owning them. These customary costs include spaying/neutering, shots and regular preventative checkups.
What quite a few of us don't spend enough time thinking about is what happens if or when our dog or cat gets quite sick or injured. How does pet insurance work? That's not a question you want to ask yourself as you drive to the veterinarian in a panic as your furry friend suffers in the backseat. Instead, understanding pet insurance is something you should have a handle on before you even bring your pet home.
However, if that didn't happen, it's never too late to start learning. So, how does pet insurance work? Keep reading below to get some insight in hopes that you'll see the value in protecting not only your bottom line, but possibly your pet from being caught in the middle of a terribly difficult decision sometime in the future.
If you're a pet owner considering pet insurance for your dog or cat, all of the insurance terminology can get pretty confusing. Not only that, it can be hard figuring out how much your insurance provider will actually cover when an unexpected vet visit arises. At Odie, our goal is to be as transparent as possible. We want you to feel prepared and assured that your pet will receive the best medical treatment possible at an affordable rate.
Odie offers Accident and Illness policies with the ability to customize plans around your budget. An accident and illness policy will cover both unexpected injuries, such as fractured bones, and unexpected illnesses, such as cancer. If your pet requires some extra coverage, we have plenty of supplemental products for puppies, kittens and even older pets.
Whether you decide to join Odie or not, understanding the basic jargon will help you choose the best policy for you and your furry loved one.
Here is what we will break down today:
Why should I buy pet insurance?
When should I buy pet insurance?
How are pet insurance premiums determined?
How much will I get reimbursed?
What's co-insurance?
What's a deductible?
What's an annual limit?
How does the claims process work?
Why should I buy pet insurance?
Buying pet insurance is a personal choice and dependent on each individual's financial position. People who would rather save for a rainy-day fund may not feel comfortable purchasing insurance. We respect that. We also know that many pet owners end up with large medical bills before they've been able to save enough money to cover them. Our two cents, if a pet owner is worried about being able to afford an $800-$5,000 unexpected vet bill, they should consider pet insurance. As more and more people consider pets part of their families, pet insurance especially helps those who would do whatever it takes to keep their pets healthy and happy.
When should I buy pet insurance?
Ideally, pet owners should enroll their dog or cat the moment they bring their new pet home. Pet insurance does not cover pre-existing conditions so trying to buy pet insurance after an incident has already happened is too late. Enrolling a pet before any new or unrelated issues start to occur will help ensure your pet is eligible for ongoing coverage. Odie customers can enroll any pet breed starting at just 7 weeks old and there are no upper age limits.
How are pet insurance premiums determined?
As pet owners, we all know that no two pets are same. Some weigh 10lbs while others weigh 110lbs, some need special food and others will eat everything and anything, one breed can be prone to hip issues and others are as sturdy as a moose.
You get the idea.
For this reason, your insurance premium will be based on a number of factors. Things like breed, age, pre-existing conditions, and where your pet will receive veterinary care will apply in determining your monthly or annual rate.
Next, and this is where most people get confused, you will need to determine how much you want to contribute toward your annual deductible and co-insurance and how much coverage you think your pet will need in a given year. Adjusting these options will give you the greatest ability to customize a plan according to your budget. And don't worry. We'll be explaining each of these terms in a moment.
How much will I get reimbursed?
Now you're probably wondering how much the pet insurance company will cover when submitting a claim. This all comes down to what you choose for the 1) Co-insurance, 2) Annual Deductible and 3) Annual Limit. After determining which costs are eligible for coverage, the insurance company will deduct your portion of the payment according to the policy you signed up for. To put it simply, you'll pay your co-insurance plus your annual deductible. After you've met your annual deductible, the insurance company will reimburse the balance of covered services up to your annual limit.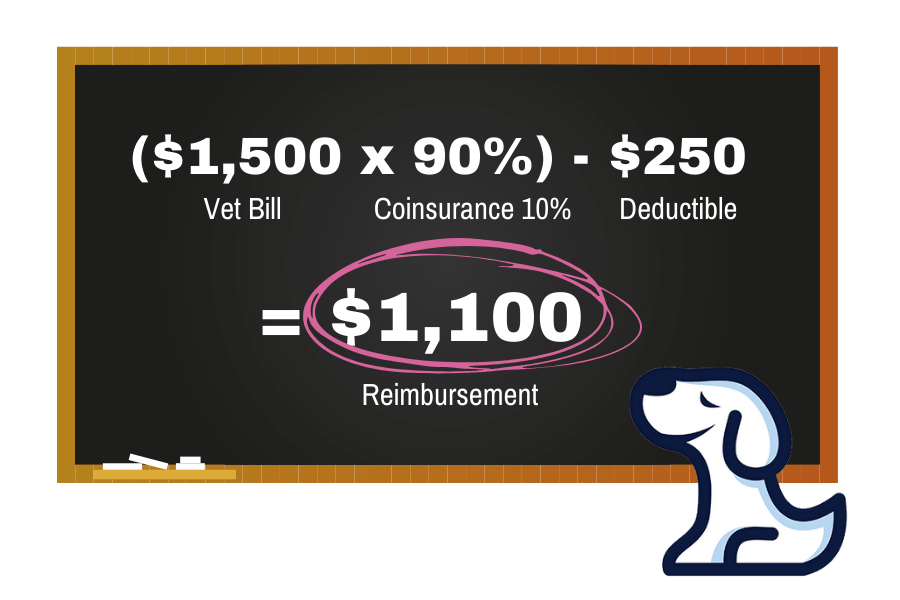 What is Co-insurance?
Coinsurance is the amount you pay for your pet's covered services after you've paid your annual deductible. The remaining balance is covered by the insurance company. This is often confused with a copay which is a flat fee you pay on the spot when you visit the doctor.
In this example, let's say you've chosen a plan with a 90% insurance reimbursement. Your coinsurance would be 10%; basically, how much you need to pay toward the bill.
($900 Vet Bill x 10% Coinsurance) = You Pay $90
With Odie, you can choose a 70%, 80%, or 90% reimbursement plan. The higher your reimbursement, the higher your monthly premium will be. Your coinsurance percentage remains the same whether you visit your regular vet, a specialist or an emergency hospital.
What's a deductible?
A deductible is the amount you pay for your pet's covered health care before the insurance kicks in.
For example, let's say your plan's annual deductible is $250. The next time you take Pumpkin to the vet, you would pay for the first $250 of covered services. After you meet your annual deductible, insurance will pay for covered services minus your coinsurance.
($1,500 Vet Bill x 10% Coinsurance) + $250 Annual Deductible = You Pay $400
Odie lets you choose your annual deductible starting from just $50 to $1,000. The lower your annual deductible, the higher your monthly premium will be.
What is an annual insurance limit?
An annual insurance limit is the maximum amount of money insurance will pay toward your pet's covered health services each year. Once the annual limit is reached, you will pay any additional costs out of pocket.
Odie offers limits up to $5,000, $10,000, $25,000 and $40,000 depending on the plan you choose. The higher the annual limit, the higher your monthly premium.
How does the claims process work?
Before you submit your first claim, you'll need to complete any applicable waiting periods. A waiting period is the amount of time you need to wait before your insurance policy goes into effect and you can submit a claim. This is to help the insurance company reduce any fraudulent claims.
Odie offers some of the shortest waiting periods in the industry. Once met, waiting periods are waived for continuous, uninterrupted policy renewals.
3 days for Accidents
14 days for Illnesses
6 months for Cruciate Ligament Events and any related conditions.
Routine care plans can be used the day after you enroll.
Once you've met your waiting periods, you can submit your first claim.
With Odie, you can take your dog or cat to any licensed vet in the U.S., even while you're traveling; this includes specialists and emergency hospitals. After your visit, you have up to 180 days (may vary by state) to submit your vet invoice within the Odie portal. Claims are processed within 5 business days – and as little as 24 hours — unless additional documentation is needed. Once processed, any reimbursements will be sent to the insured.
Final Thoughts
All of us who have pets know that vet bills can quickly climb into the range of thousands of dollars if not more. For too many pet owners, these costs come directly out of their pockets, and for too many others, these expenses can lead to excruciating, tragic choices. Pet insurance can help you cover out-of-pocket expenses for an unexpected vet bills so you can focus on your pet's ongoing health.
You owe it to your pet to provide him or her with every level of protection possible. They're never going to ask you, "How does pet insurance work?" They're simply going to need your help someday. You need to provide yourself with the peace of mind that when such a circumstance arises, you'll be ready and able to provide it.
Read more about the limits and benefits of pet insurance.