It may be difficult at times to see if your dog is in pain. Our fur babies sometimes may not show pain, and often when they do, the condition may have progressed. Managing pain in dogs is challenging, and as with people, your furry best friend may have behavioral changes like aggression, lethargy and may not be his usual self.
Today, we all understand the importance of holistic and integrative treatments like cannabidiol combined with traditional drugs for different types of pain in dogs for reducing pain, improving mobility, and allowing for a better quality of life. If you feel that CBD may be beneficial most especially for arthritic pain, you should consult with your veterinarian.
Two types of pain can affect dogs: acute or chronic pain. Your veterinarian will diagnose pain and select an appropriate treatment plan for pain management.
Acute Pain
This is a sharp pain that may be intense and severe, and that suddenly occurs. It can come about due to injury from fractures, bladder stones, gastroenteritis, or even pain from minor injuries like a muscle strain that may often occur in working dogs. Acute pain is usually treated surgically.
Chronic Pain
This is a long-lasting pain that is usually managed over a long period in dogs. It's usually caused by inflammatory disease and is triggered by arthritis and even injuries or fractures in the past. Your veterinarian will use an effective treatment to relieve inflammation and pain, but dogs will still not be pain-free at the end of the day. Instead, the pain will be less severe.
Signs of Pain in Dogs
Understanding that your dog is in pain is essential because you'll then be able to reduce the pain with good veterinary care. Few things are more upsetting than seeing your dog is suffering.
Your dog can't talk, so it's challenging to gather how much pain they may be feeling. Seeing how your dog changes his body language and behavior will put you in a better position to know when your dog is in pain. Because dogs are so stoic, pain may not be immediately apparent. But here are some signs of distress.
No appetite
Lethargic
Aggressive or change in behavior
Breathing rate changes
Vocalization like whimpering when he gets up or moves
Excessive licking and grooming
Weight loss
Decreased overall activity
Lack of grooming
Reluctance to lie down or walk
Anxiety or unusual restlessness
Withdrawn behavior
Personality changes
Irritability without aggression
Biting or pawing painful area
Lack of energy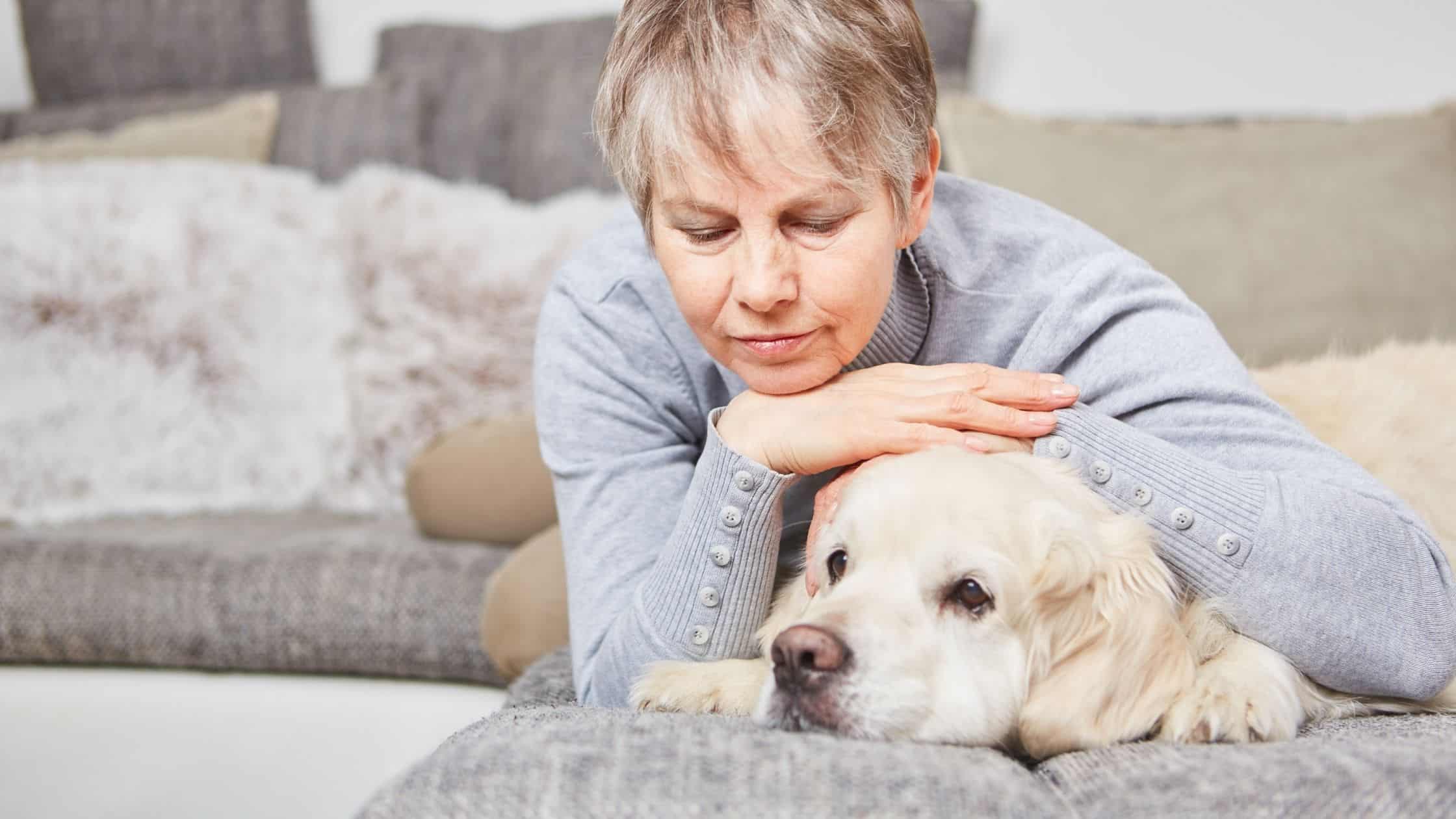 Treatment
There are traditional methods like opioids, nonsteroidal anti-inflammatory drugs (NSAIDs), corticosteroids, and other drugs prescribed for pain control. Your vet may use a combination of drug and non-drug methods for both acute and chronic pain.
What Are the Benefits of CBD for Dog Pain?
If you see that your dog's behavior is unusual, it's best to consult with your vet, even if the signs are subtle. CBD may be effective in helping certain types of pain. You can also ask your vet how CBD can be used in conjunction with joint supplements or pet meds.
Hemp cannabidiol may help with the following conditions:
Loss of appetite
Anxiety
Aggressive behavior
Canine depression
Separation anxiety
Inflammation
Arthritis
Seizures
Allergies
Lessen the side effects of chemotherapy and radiation
Reduce the chronic or acute pain
May be effective for cancer pain
CBD for Cancer Pain
With cancer pain being severe with tumor affecting bone, cannabidiol research shows that CBD may be beneficial in decreasing pain and inflammation. Although CBD should not be used on its own for pain management, pet parents can add it to a regular pain treatment regime. Consult with your veterinarian for more advice.
According to the World Health Organization (WHO), "CBD oil may have the potential to kill certain cancer cells, and stop tumor growth in blood vessels. It also may help with chemotherapy side effects in both human and pet. Hemp contains other natural compounds like terpenes and flavonoids. That said, limonene, which is a terpene has been found to have anti-cancerous properties. CBD can be converted to tetrahydrocannabinol (THC) under experimental conditions; however, this does not appear to occur to any significant effect in patients undergoing CBD treatment."
There have been no studies that demonstrate negative interactions between CBD and other drugs when dealing with pain management in pets. The norm with pain management dosing for cancer pain is usually a "higher dose of CBD such as 2mg/kg to 3mg/kg twice daily," via Animal Wellness, Volume 21, Issue 3, page 48.
CBD for Pain
Another study from the European Journal of Pain adds that CBD can be added to the skin to reduce pain and inflammation stemming from arthritis. Similarly, numerous other studies demonstrate how CBD may be used to lessen inflammatory and neuropathic pain, which are two of the most challenging types of chronic pain to treat.
"Outcomes of this study indicate that topical application of CBD gel is an effective treatment for reduction in inflammation and hypersensitivity associated with the rodent adjuvant-induced monoarthritis model."
"CBD is a known non-psychoactive cannabinoid, and due to its low affinity for the CB1 receptor it would be expected that exploratory behavioral activity would be similar among treatment groups compared to negative side-effects associated with THC. These studies demonstrate transdermal administration of CBD has long-lasting therapeutic effects without psychoactive side-effects. Thus, use of topical CBD has potential as effective treatment of arthritic symptomatology," via NCBI.
CBD for Hip Dysplasia Pain
If your dog suffers from hip dysplasia, your veterinarian may suggest a weight loss program, together with less exercise on hard surfaces, less vigorous activity, and may even recommend physical therapy combined with traditional anti-inflammatory drugs to help with inflammation.
This may include natural CBD supplements for chronic pain and inflammation and also joint fluid modifiers. Several natural treatments may benefit your dog, like cannabidiol, glucosamine, chondroitin, and MSM, together with swimming therapy, acupuncture, warm applications, and nutraceuticals like CBD.
CBD for Senior Dogs
Just like people, senior dogs are more prone to pain. Chronic diseases can continue for a long time with no cure, and although medications are used for treatment, there may be long-term pain, and your furry best friend feels constantly uncomfortable.
As your dog ages, you'll notice that he's not as active and may have issues jumping into the car or getting onto the couch. There may be kidney issues or other ailments affecting him. Cannabidiol as a supplement may be beneficial in dealing with everyday pain.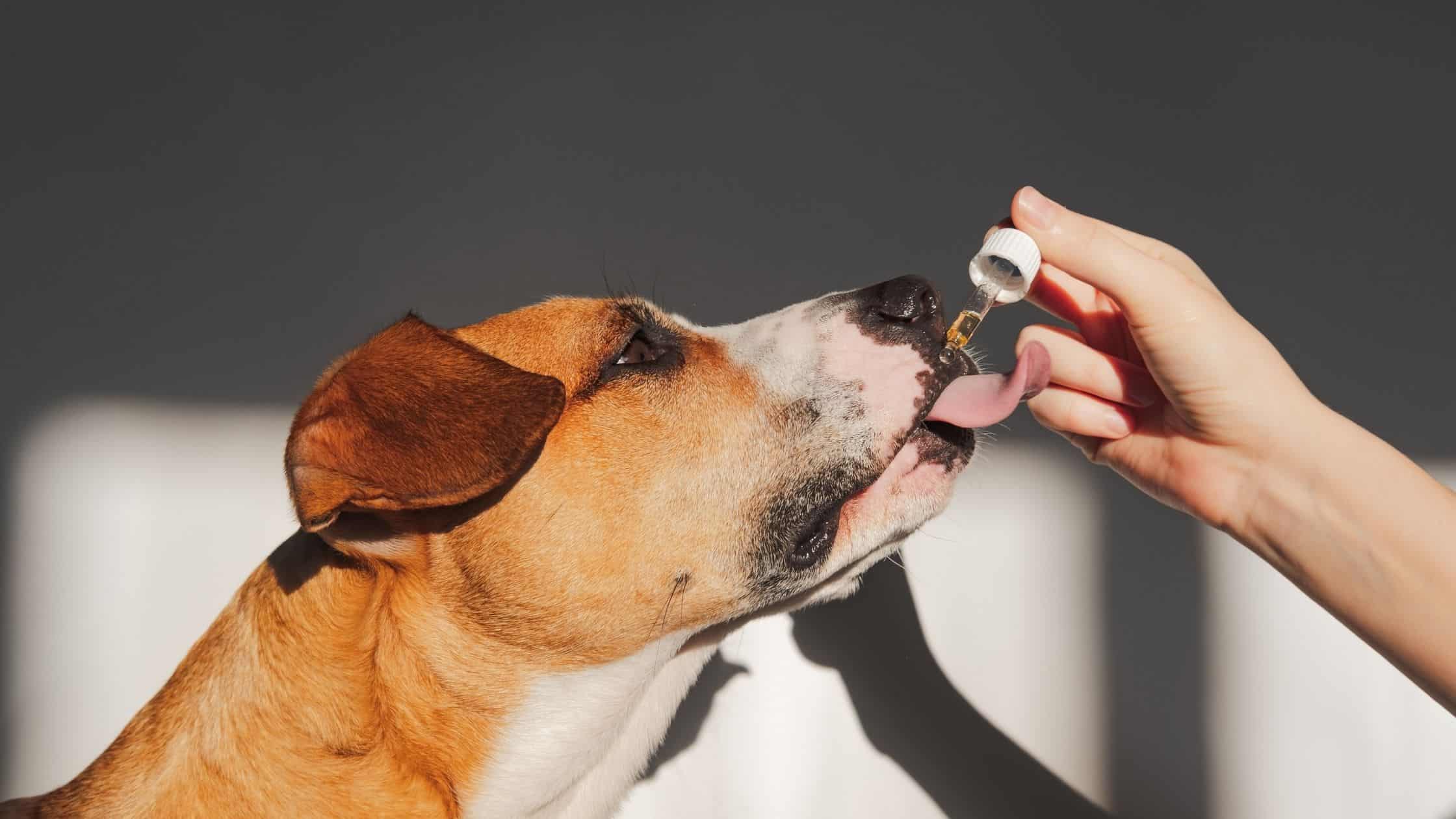 Full-Spectrum vs Broad-Spectrum Hemp Oils
Full-Spectrum
If you feel that your senior dog would benefit from CBD, reach out to your veterinarian to discuss your dog's current health conditions, pet meds, and so forth. Full-spectrum hemp oil products are beneficial because they carry all the cannabinoids to help your dog maintain good health.
When opting for full-spectrum hemp oils, you'll be providing your furry best friend with all the cannabinoids and terpenes that studies have demonstrated work best together. Full-spectrum will have the legal amount of 0.3 % or less included with no psychoactive effect.
Broad –Spectrum
Broad-spectrum hemp oil features all the same cannabinoids and terpenes but has had all the THC taken out. This means that the terpenes and cannabinoids work together to provide optimal health results without the THC.
CBD Isolate
CBD isolates contain CBD only, and all the other terpenes and cannabinoids have been removed. This leaves you with a 99 + % CBD purity. With a CO2 extraction process, you have a pure product of high quality.
Research demonstrates the numerous CBD benefits for pain in dogs. While you may be interested in purchasing CBD pet products, it's essential to keep in mind that CBD does not replace a veterinary consult and traditional pet meds. With full-spectrum hemp oil, it's critical to understand that these products contain THC, toxic to pets in high doses.
With that said, THC stores up in a dog's body, and it can be harmful over time. If you're going to purchase CBD, it's best to consult with your veterinarian to get dosage and potencies 100% accurate. And for the safety of your pets, always opt for hemp products with a low (0.3%) THC content.
Remember that CBD takes longer to work than regular medications and that your pup will need to build up enough CBD in his system before he'll start to feel better. This can take as long as a few weeks. When determining which products you should be using, it's important to work with your veterinarian to ensure the quality of CBD pet products and to see whether the specific formulations addresses the health conditions that your pet suffers from.
How often should you be taking your pet to the vet? Read more here.