This post contains affiliate links, and we will be compensated if you make a purchase after clicking on the links
With grooming expert and founder of Kibble Pet, Samantha Kent.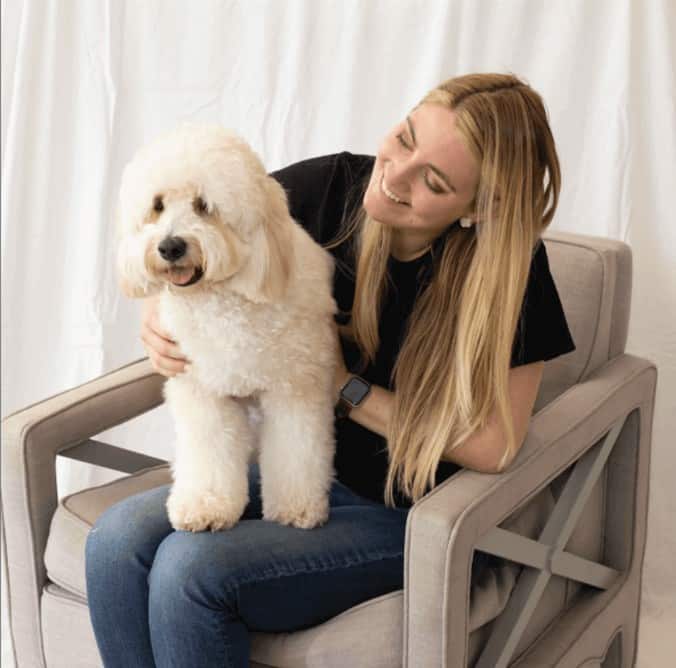 Over these past few weeks, we've loved being at home with our pets. They make very easy-going companions and don't care that we've worn sweatpants 5 days in a row. If your dogs are anything like ours, they are in desperate need of professional grooming.
Luckily, we had a chance to speak with Samantha Kent, founder of Dallas's Kibble Pet Grooming salons and products, who shared her expert tips and tricks for a fresh-smelling pup while quarantining at home.
[Odie interviewer] So Sam, tell us a bit about how the idea of Kibble Pet began?
[Samantha Kent, Kibble Pet] At first, I wanted to start a human skincare line. I was already working in the human haircare industry and began researching what it would take to create skincare products. The cost of skincare was a lot more expensive than I was able to do at the time, so my business partner had the idea for a dog line instead. I already had all of the formulas, I just needed to tweak them to be pet friendly.
I didn't know much about the pet space, so I went back and started to research other pet grooming products. I couldn't find any products, except for one, that disclosed all of its ingredients. These companies may put some things on the bottle but not others because they aren't legally required to. I discovered that the FDA doesn't regulate the labeling of dog grooming products, which was super interesting. So, you might feel like you're reading a full ingredient list that sounds really natural and good, but it's actually a dumbed down version that doesn't include a lot of the bad ingredients. Having that transparency in our own product was really important to us.
Next, was the actual performance of the products. Pet owners want their dog's coat to feel soft all of the time. I hate it when my dog, Ragnar (Ragy for short), feels rough or greasy so having a full line of bath products to combat matting and also maintain the coat in-between felt like best way to go.
What was your first product in the Kibble Pet line?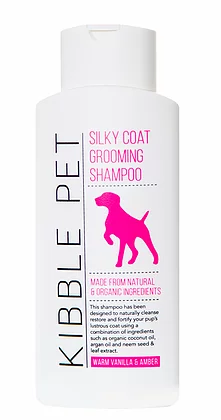 We ended up doing the entire core line which includes the shampoo, conditioner, waterless shampoo, light leave-in conditioner and the de-matter. I couldn't decide between the vanilla and amber scent or the aloe and honey scent, so we did both. All of our products are made with clean ingredients, consciously sourced and are free of harsh toxins, irritants, and parabens.
I actually use the product in my hair most of the time.
Wait, you can use KP in your own hair? I thought it was unsafe for dogs to use human shampoo and vice versa.
I do! The biggest thing to look for is the pH. A lot human products are very acidic because the human scalp and hair pH is lower, around 5.5. Our dog products are less acidic because a dog's pH is about a 7.5-8. Something with more acidity would cause a dog's skin to dry out and become irritated.
How often should pet owners bathe their dog?
Bathing your dog isn't that fun so most people try to prolong the time in-between baths. We recommend bathing your dog every 1-2 weeks but no more than once every 3 days.
Let's get into the correct way to bathe your dog and some expert tips and tricks.
#1 First, gather your supplies.
Don't wait until your dog is already wet to start looking for all of the necessary products and tools. For a salon quality bath, you will need the following:
#2 Distract your pup with peanut butter.
A great trick is to put peanut butter on the side of the shower or tub to keep them occupied while you're washing them. Just don't get shampoo in the peanut butter.
#3 Brush out tangles before the bath.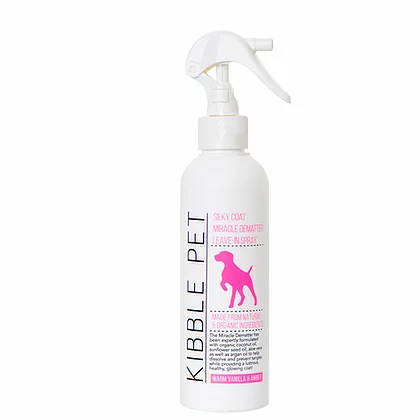 Get the mats and tangles out prior to getting your dog wet because mats can tighten up while shampooing and make them worse.
Certain breeds like poodles or other long-haired dogs are prone to getting matted fur. It's important that the hair doesn't get matted because it can cause painful skin infections or irritations for your dog. De-matting will also help eliminate any bacteria or anything your dog might be carrying on his coat.
#4 Shampoo starting with the paws and work your way up.
Start by applying shampoo to your hands and create a nice lather. Then apply the shampoo to your dog's paws and work your way up towards their body. You always want to wash their face last to make them more comfortable.
Once you start rinsing, reverse the order. Rinse their face first and work your way down toward their paws.
#5 Use the Brightening Silky Wash all over or as a brightening facial.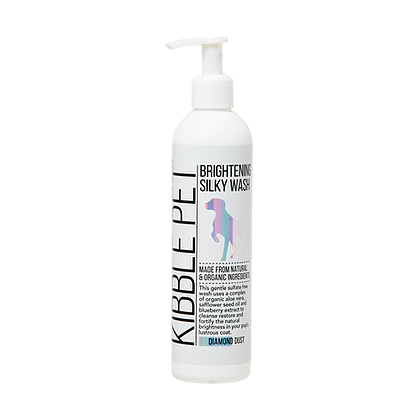 The Kibble Pet Brightening Silky Wash is our salon quality secret and is great for eye goop or food messes that discolor the natural beauty of your dog's coat. It works for all colors, not just white, and helps enhance the colors in a pup's coat. Our product contains blueberry extract, safflower oil, and aloe which is powerful but extra gentle on the face.
#6 Apply conditioner to hydrate and seal.
We recommend some sort of conditioning sealer whether it's the leave-in spray or the conditioner. For short hair breeds, the light leave in spray is great. For long-hair breeds, the dematter leave-in spray is better.
#7 Towel dry or blow dry?
Both! But make sure that if you do blow dry that the dryer setting is on cool.
How can we maintain our dog's coat after their bath?
We have quite a few products we'd recommend to dog owners for daily or weekly maintenance.
Our Tear Stain Remover can be used daily with a cotton ball or paper towel. You'll see real results in 2-3 weeks. Unlike other products, our stain remover contains only 11 ingredients including coconut oil and a natural lightener.
The Brush-In Shine Waterless Shampoo is great for maintenance. It comes to a lather to help loosen up and eliminate any gross stuff. You then just brush it or towel it come. We don't recommend bringing it to a lather for dogs with long hair just to prevent matting.
Finally, we have our newest arrival, Ear Cleaner, which is fragrance free. You can use this once a week to naturally cleanse the ears and remove any excess build up. With ear cleaner, it's important not to use a Q-tip or touch the ears with the tip of the bottle because that can cause damage or make bacteria grow.
You now have three grooming salons in Dallas. How do your memberships work?
We are actually working on a fourth! But yes, customers can purchase services a la carte or get one of our monthly memberships. The first membership is an unlimited bath program where customers can bring their dog in as many times as they want. The other is a bath and grooming option each month. Each membership will also save you 10% on any add-on services and take-home products.
Maybe your dog struggles with grooming because they are anxious. Find out if your dog is anxious and what you can do about it.
For those of us who don't live in Dallas, where can we buy Kibble Pet Products?
You can purchase Kibble Pet grooming products in store or online at:
How often should you be taking your pet to the vet? Read more here.